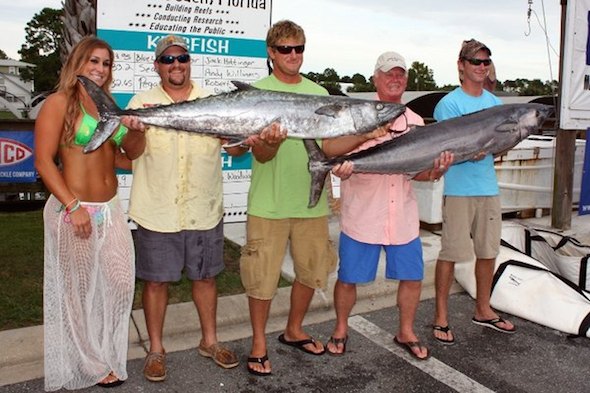 The 18th Annual MBARA Kingfish Tournament held Saturday, August 23, in Mexico Beach, is the last but certainly not the least of 2014's summer fishing competitions. This extremely popular tournament is the biggest fund-raiser of the year for the Mexico Beach Artificial Reef Association Mexico Beach Anglers, a volunteer organization that is credited with building over a million dollars' worth of artificial reefs in the Gulf of Mexico since 1997, including Florida's recent history-making super reefs that are a staggering 17 to 25 feet tall.
Cash prizes will be awarded in the Recreational Division for the following categories:
KING MACKEREL:
1st place reels in a whopping $3,000, followed by $2,000 for 2nd place and a not-too-shabby $1,000 bucks for 3rd!
WAHOO:
$1000 first-place prize!
SPANISH MACKEREL:
$500 is awarded for the biggest Spanish mackerel!
What's new for the 2014 tournament? A Professional Masters division was added for king mackerel. The angler who lands the king of kings, will win a 50% split of the entry fees—up to $3,000! All interested anglers, whether recreational or masters, be sure to check out the new 2014 tournament rules and preregister at www.mbara.org.
Tournament director, Ron Childs, mentioned a few other changes for this year's competition:  "We have a new Miss Kingfish, a new T-shirt, a new tournament magazine with hundreds of pictures from last year's competition, a new smoker for creating sausage perfection, and new door prizes that will once again make this a premier tournament in the Florida Panhandle."
The Kingfish Tournament Captains' Party will be held on Friday, August 22, 5:00–9:00 p.m. CDT at Toucan's on Mexico Beach. Entry fees are $160 per boat (with no limit on the number of anglers aboard), plus a $5 online fee.  Everyone is invited to join in on the fun and festivities at the after-party, held Saturday, August 23, from 1:00–5:00 p.m. at Mexico Beach Marina.
For more information on any of Mexico Beach's upcoming summer fishing tournaments, call (850) 648-4900, visit www.mbara.org or visit the Calendar of Events.
---