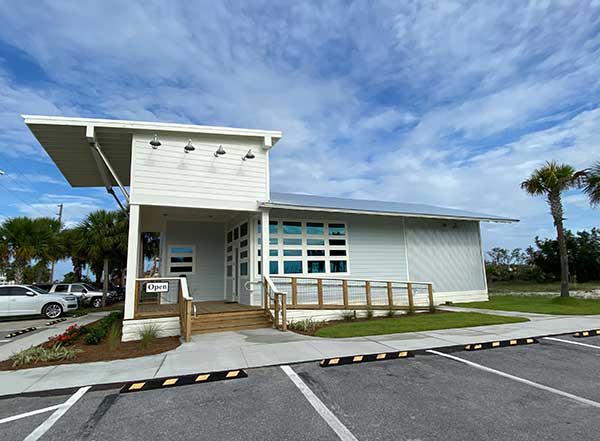 A New Door Opens

We are very excited about this month! Construction has been completed on the new Welcome Center. The Mexico Beach Community Development Council has relocated into its new home, where it will continue to market Mexico Beach and offer information services to our friends and visitors. The City of Mexico Beach, along with DAG Architects and Bonavic Development-Construction, have worked diligently to have the new Welcome Center as a wonderful addition to our beautiful town. The Welcome Center is open Monday through Friday, so please stop by and say hello. We are excited to show off the new office to our residents and visitors. Be on the lookout for a grand opening that will take place in the coming month.
And the Winner Is. . .
Up for grabs last month was a beach towel set from Serenity Beach Rentals and the lucky winner is Barb Haag from Lake Saint Louis, Missouri. Congrats, Barb!


JULY GIVEAWAY
This month's giveaway is a fun promotional item from Vacation Mexico Beach. With amazing vacation rentals to select from, Vacation Mexico Beach is ready to host you for your overdue beach vacation. This family-operated company offers lodging just a few steps from the sandy shores and can accommodate you and your beach crew. To place your name in the hat, send an email to Kathy at kathy@mexicobeach.com.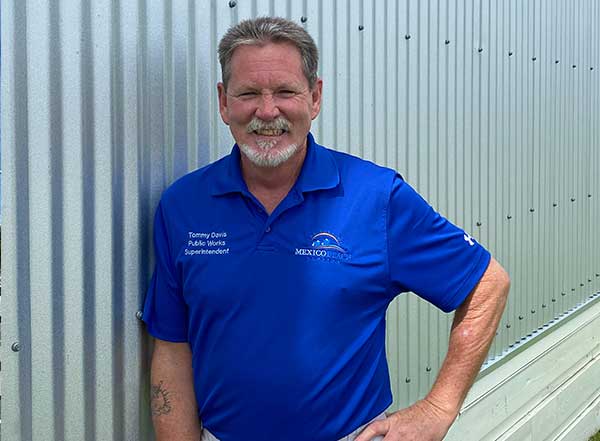 Meet Mexico Beach

This month we would like to introduce Tommy Davis, City of Mexico Beach Public Works director. Tommy has been an employee with the city for 16 years and moved into the Public Works Director position two years ago. He is a dedicated employee and all-around interesting guy. In his free time, Tommy rebuilds old jukeboxes and pinball machines. He's a woodworker and enjoys gardening. He is also an amateur magician and experienced karaoke performer. We are delighted to have Tommy as one of the city's dedicated employees. If you see him around town (the chances are high), please say hello!
Mexico Beach Annual Photography Contest
Now–July 31
Get ready to print those pictures and try your hand at our annual photography contest. The Mexico Beach 21st Annual Photography Contest is open for submission now until July 31. We welcome all photographs taken in Mexico Beach, past or present. Categories are Around Mexico Beach, Sunrises & Sunsets, The Beach, Fishing & Boating, People, and Flora & Animal Life. We hope you will capture Mexico Beach through your "eyes" and enter our photography contest.
Bay Scallop Season
August 16 - September 24
Ready to explore for scallops? The 2021 season opens August 16 and ends September 24 for scalloping in St. Joseph Bay. This season opening is from the Mexico Beach Canal in Bay County to the westernmost point of St. Vincent Island in Franklin County. The daily limit per person is two gallons of whole bay scallops in shell or one pint of bay scallop meat. The daily limit per vessel is a maximum of 10 gallons of whole bay scallops in shell or a half-gallon of bay scallop meat (four pints).
MBARA Kingfish Tournament
August 28
The Mexico Beach Artificial Reef Association is proud to announce the date for the 25th Annual MBARA Kingfish Tournament. On Saturday, August 28, anglers will hit the open waters of the Gulf of Mexico in search of the prize kingfish. This year's Captain's Party and Weigh-In will take place at the Mexico Beach Boat Ramp. This charitable fundraiser assists in the development and deployment of artificial reefs into the Gulf of Mexico. All proceeds will be used to create more wonderful marine habitats and improve the fishery for everyone to enjoy. Make plans to enter today!
A friendly reminder:

Mexico Beach is a Leave No Trace community, and we appreciate your assistance in helping us keep our beaches clean. Any items left on the beach unattended from 7 p.m. to 7 a.m. will be removed and disposed of by the City of Mexico Beach. Items include, but are not limited to, tents and tent frames, beach chairs, coolers, umbrellas, toys, etc. Also, please fill in any holes before you leave and please remain off the sand dunes and out of the sea oats to ensure their continued nourishment. There are boardwalks and walking paths that can be accessed to reach the beach. Your assistance with these requests will keep our beaches beautiful and pristine. For full details on this ordinance or questions, click here or contact City Hall at (850) 648-5700.
Seafood Stuffed Mushrooms
This delicious dish is great for the family table! We publish it with the compliments of the Mexico Beach Artificial Reef Association Seafood Cookbook (www.mbara.org).

INGREDIENTS

1 cup cooked, flaked fish, crab, or chopped shrimp
24 large mushrooms
2 tablespoons margarine
2 tablespoons onion, finely chopped
2 tablespoons celery, finely chopped
1 tablespoon chopped pimento
1 tablespoon fresh lemon juice
1 cup whole wheat breadcrumbs
1 tablespoon mayonnaise
1/8 teaspoon cayenne pepper
1/8 teaspoon salt
Oil (garlic or choice of flavored oil)


PREPARATION

Preheat the oven to 350 degrees. Remove stems and clean mushrooms. Brush mushroom caps with oil and place them on a baking sheet. Finely chop half the stems and sauté in margarine with onion and celery. In a small mixing bowl, combine sautéed vegetables with the remaining ingredients. Stuff each mushroom cap with the mixture. Sprinkle them with paprika and bake for 5 minutes. Serve and enjoy!
The Ups and Downs of Cooking

Cooking has been known to bring out the best, and sometimes not the best, of the cook in the kitchen. Here are a few thoughts on the ups and downs of this pastime.

—My cooking is so good, even the smoke alarm cheers me on.

—My mom's favorite thing to make for dinner is reservations.

—The only reason I have a kitchen is that it came with the house.

—I've discovered the joy of cooking is when my husband does it.

—A guy who knows how to cook is really handsome.

—One day I'm going to get even and make the onions cry.

—Cake makes life just a little sweeter.

—No matter what happens in the kitchen, never apologize.

—I read recipes the same way I read science fiction—at the end, I think, "Well, that's not going to happen."


Jump on the Bandwagon

This phrase generally means joining or associating yourself with some popular activity, often with a general leaning toward politics. An example would be, "The candidate for governor was expected to win, and voters were jumping on the bandwagon to support him." The term dates back to the early nineteenth century and is generally attributed to the circus. The circus would have a parade through town with a wagon on which a band would play music to attract customers. One of the early appearances of this phrase was in the mid-eighteenth century when a clown-turned-politician named Dan Rice used a bandwagon to help the political campaign of President Zachary Taylor. Politicians then started to seek seats on the bandwagon to increase their popularity. The use of a bandwagon was also common in the campaign of William Jennings Bryan in 1895.