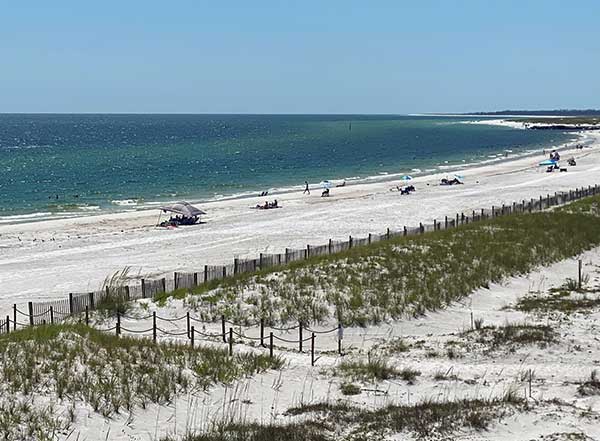 What a Great Summer!

It has been an amazing summer here in Mexico Beach. While we might still be in uncertain times, our beaches certainly help soothe the mind and soul. For those who've not been able to make it down, don't worry—there is still plenty of time to enjoy the sand, surf, and sunshine. August is a great month to make those last-minute beach vacation plans, and some of our wonderful lodging partners are offering great specials. So, if you've ever needed a reason to get out of the house and enjoy our sugar-white sand, now is the perfect time to do it. You won't be sad that you did; we can guarantee that!
And the Winner Is. . .
Up for grabs last month was a promotional item from Vacation Mexico Beach, and the lucky winner is Gregg Andrews from New Marshfield, Ohio. Congrats, Gregg!


AUGUST GIVEAWAY
This month's giveaway is a gift certificate from Cathey's ACE Hardware Store. Since 1974, Cathey's ACE Hardware Store has been servicing our beautiful beaches with all your hardware needs and more. From hammers and nails to beach and grilling supplies, they've got you covered. To place your name in the hat, send an email to Kathy at kathy@mexicobeach.com.

Meet Mexico Beach

This month, we are delighted to introduce you to Susan Cammack, owner of the newly opened Mexico Beach Sweets. It's a new shop in the colorful shopping center at 30th Street. They have a selection of 12 ice cream flavors, chocolates, and other candies, plus assorted beach T-shirts, hats, towels, and home decor. They're open from 11:00 a.m. until 8:00 p.m. daily, except Sunday when hours are 1:00 to 8:00 p.m. Be sure to stop in, say hello, and grab an ice cream cone. It's a great place to satisfy your sweet tooth!
For more information on weddings or vow renewal ceremonies on the beach, visit mexicobeach.com.
Eric and Jaclyn
This past month, we welcomed Eric and Jaclyn, who came from Colorado to say their "I dos." The bride, a former local who grew up on our beaches, knew she wanted to return home for this special day. The couple agreed that a July sunset wedding was the perfect backdrop for their vows. It was a magnificent ceremony with family and friends in attendance. Congratulations, Eric and Jaclyn.
Bay Scallop Season
August 16 – September 24
Ready to explore the Bay in search of fresh scallops? The 2021 season opens August 16 and ends September 24 for scalloping in St. Joseph Bay. This season's opening is from the Mexico Beach Canal in Bay County through the westernmost point of St. Vincent Island in Franklin County. The daily limit per person: 2 gallons of whole bay scallops in shell or 1 pint of bay scallop meat. The daily limit per vessel: Maximum of 10 gallons of whole bay scallops in shell or 1/2 gallon of bay scallop meat (1/2 gallon=4 pints).
MBARA Kingfish Tournament
August 28
The Mexico Beach Artificial Reef Association is proud to announce the date for the 25th Annual MBARA Kingfish Tournament. On Saturday, August 28, anglers will hit the open waters of the Gulf of Mexico in search of the prize kingfish. This year's Captain's Party and Weigh-In will take place at the Mexico Beach Boat Ramp. This charitable fund-raiser assists in the development and deployment of artificial reefs into the Gulf of Mexico. All proceeds will be used to create more wonderful marine habitats and improve the fishery for everyone to enjoy. Make plans to enter today!
License-Free Fishing Day
September 4
Ready to fish without having to purchase a license? The Florida Fish & Wildlife Conservation Commission offers license-free fishing days for those wanting to test the waters. This is an excellent opportunity for anglers to experience fishing in the Bay, Gulf, or lakes, take youth fishing, or introduce a friend to the pastime without purchasing a State of Florida-issued fishing license. On the listed days, the fishing license requirement is waived for all recreational anglers, including Florida residents and non-residents.
Stronger Than the Storm
October 10
The wonderful volunteers in Mexico Beach are bringing the Stronger Than the Storm fund-raiser back for the third year. This year's event will take place at Killer Seafood, located at 820 Highway 98, from 11:00 a.m. until 9:00 p.m. A fun-filled family day is planned with live music, food, and activities for the children. This will be a free event, and there will be food and commemorative T-shirts available for purchase. Proceeds from the event will go toward community projects in Mexico Beach.
A friendly reminder:

Mexico Beach is a Leave No Trace community, and we appreciate your assistance in helping us keep our beaches clean. Any items left on the beach unattended from 7 p.m. to 7 a.m. will be removed and disposed of by the City of Mexico Beach. Items include, but are not limited to, tents and tent frames, beach chairs, coolers, umbrellas, toys, etc. Also, please fill in any holes before you leave and please remain off the sand dunes and out of the sea oats to ensure their continued nourishment. There are boardwalks and walking paths that can be accessed to reach the beach. Your assistance with these requests will keep our beaches beautiful and pristine. For full details on this ordinance or questions, click here or contact City Hall at (850) 648-5700.
Oysters Bienville
This delicious dish is great for the family table! We publish it with the compliments of the Mexico Beach Artificial Reef Association Seafood Cookbook (www.mbara.org).

INGREDIENTS

Rock Salt
1 dozen oysters on the half shell
1/4 cup green onions, chopped
1/4 cup parsley, chopped
2 cloves minced garlic, to taste
2 Tbsp. butter
1/4 cup breadcrumbs
1/4 cup Parmesan cheese
1 Tbsp. lemon juice
1 tsp. black pepper
Tabasco sauce
Oil


PREPARATION

Preheat the oven to 425 degrees. Sprinkle a layer of rock salt on a shallow pan. Arrange the oysters, in shell, over the salt. In a sauté pan, cook the onions, parsley, and garlic in oil. Combine the sautéed onions, parsley, and garlic with the remaining ingredients in a bowl and mix well. Spoon the mixture over the oysters and bake for six to eight minutes until the edges of the oysters begin to curl. Serve with Tabasco and enjoy!
Money

How about some thoughts on money? I'm sure we could all use these bits of advice and humorous quips.

"Saving is a very fine thing—especially when your parents have done it for you."
—Winston Churchill

"When a fellow says it ain't the money but the principle of the thing, it's the money."
—Kin Hubbard

"From birth to age 18, a girl needs good parents. From 18 to 35, she needs good looks. From 35 to 55, she needs a good personality. And from 55 on, she needs cash."
—Sophie Tucker

"Money, if it does not bring you happiness, will at least help you be miserable in comfort."
—Helen Gurley Brown

"A bank is a place where they lend you an umbrella in fair weather and ask for it back when it begins to rain."
—Robert Frost

"Inflation is when you pay $15 for the $10 haircut you used to get for $5 when you had hair."
—Sam Ewing

"Why does a slight tax increase cost you $200 and a substantial tax cut save you 30 cents?"
—Peg Bracken

The best way to teach your kids about taxes is by eating 30% of their ice cream."
—Bill Murray

"The trick is to stop thinking of it as 'your' money."
—IRS Auditor

"Money will buy you a fine dog, but only love can make it wag its tail."
—Richard Friedman

"Always borrow money from a pessimist; he doesn't expect to be paid back."
—Unknown


Lock, Stock, and Barrel

This phrase generally means to encompass everything related to a subject. For example, if a store were going out of business, they would sell everything to do with the store. The saying originally referenced the three parts of a rifle: the lock, which is the firing pin, the stock, which is the handle, and the barrel, where the bullet travels to leave the rifle.