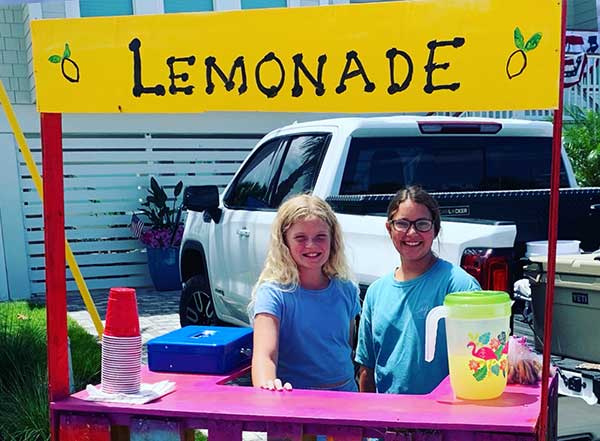 It's Time to Cool Off!

It has been warm and breezy - just your typical Florida weather! Life at the beach is great, and there is nothing like a cool cup of lemonade on a wonderful, warm afternoon. Some of our younger folks in Mexico Beach are helping make the dog days of summer more enjoyable and refreshing—Tynlee, Jaycee, Logan, and Hunter have opened their own lemonade stand! While they are typically only open on the weekends due to that thing called school, they are eager to serve all the hot beachgoers. If you see them, stop by and enjoy a refreshing drink. If you missed them, our other service stations and restaurants are happy to sell you a cold one.
And the Winner Is. . .
Last month up for grabs was a gift certificate from Cathey's ACE Hardware Store, and the lucky winner is George Roach from Anderson, Indiana. Congrats, George!


SEPTEMBER GIVEAWAY
This month's giveaway prize is a gift certificate from White Sands Salon and Boutique. Come to the beach and get pampered! White Sands Salon and Boutique offers full-service hair services, pedicures, and boutique clothing and accessories. To place your name in the hat, send an email to Kathy at kathy@mexicobeach.com.

Meet Mexico Beach

This month, we have wonderful news! A new salon and spa has opened, and it's convenient for both locals and tourists. Salon Lux Hair & Beauty, located at 1402 Highway 98, is a full-service salon open Monday through Friday from 9:00 a.m. to 5:00 p.m. and by appointment on Saturday. Owner Kristen is assisted by Tori, Maria, and Sarah. They specialize in creating a relaxing atmosphere and administering professional and creative work. So be sure to stop by, say hello, and get a fresh new style.
Photo Credit: 1st Place Flora & Animal Life, Bill Fauth, Mexico Beach, FL
The 2021 Mexico Beach Photography Contest would like to thank everyone who participated! After our judging panelists reviewed all entries, we are delighted to announce this year's winners:

Around Mexico Beach

1st Place: Saralyn Harder – Mexico Beach, FL
2nd Place: Amy Miller – Sapulpa, OK
3rd Place: Nancy Walker – Clear Lake, IA


Sunrise & Sunset

1st Place: Jennifer Rhodes – Coolidge, GA
2nd Place: Gloria Sanchez – Mexico Beach, FL
3rd Place: Neil Redick – Newnan, GA


The Beaches

1st Place: Carla Craig – Port St. Joe, FL
2nd Place: Logan Harden – Ellenwood, GA
3rd Place: Jenn Campbell – Hixson, TN


Fishing & Boating

1st Place: Heather Nichols – Albany, GA
2nd Place: Bill Fauth – Mexico Beach, FL
3rd Place: Nancy Walker – Clear Lake, IA


People

1st Place: Jennifer Rhodes – Coolidge, GA
2nd Place: Amy Miller – Sapulpa, OK
3rd Place: Bill Walker – Clear Lake, IA


Flora & Animal Life

1st Place: Bill Fauth – Mexico Beach, FL
2nd Place: Saralyn Harder – Mexico Beach, FL
3rd Place: Taylor Akins – Valdosta, GA

All photographs will be available for viewing in the Mexico Beach Welcome Center until September 2022. The pictures will be released to the photographers after this date, and no photographs will be mailed back. Images that are not claimed by October 1, 2022, will be released to the Mexico Beach Welcome Center at their disposal. Again, thank you all for participating and entering. We hope you will continue to capture Mexico Beach through your "eyes" and enter next year's contest!
Bay Scallop Season
Now – September 24
Ready to explore for scallops? The 2021 season is open and ends September 24 for scalloping in St. Joseph Bay. This season opening is from the Mexico Beach Canal in Bay County through the westernmost point of St. Vincent Island in Franklin County. The daily limit per person: two (2) gallons of whole bay scallops in shell or one (1) pint of bay scallop meat. The daily limit per vessel: maximum of ten (10) gallons of whole bay scallops in shell or one half-gallon of bay scallop meat (a half-gallon=four pints).
Mexico Beach Mobile Library
September 16
Come check out a book (or two or three) from the Mobile Library! The Mobile Library will be set up at the Mexico Beach Welcome Center, located at 102 Canal Parkway, from 12:30 p.m. to 3:00 p.m. and is open to the public. The Mobile Library will be stocked with books for all ages (print and audiobooks) and DVD movies. Library patrons will be able to register for a library card and borrow and return items. So, if you don't have a library card, don't let that stop you! Patrons who place requests for items at other libraries can pick up those items from the Mobile Library, so patrons are not limited to the titles on the vehicle. With a nice selection of books, there will be something for everyone to read. Reading is a fantastic activity for the beach, so be sure to stop and enjoy the benefits of the library coming to you!
Stronger Than the Storm
October 10
The wonderful volunteers are bringing Stronger Than the Storm back for the third year. This year's event will take place at Killer Seafood, located at 820 Highway 98, from 11:00 a.m. to 9:00 p.m. A fun-filled family day is planned with live music, food, and activities for the children. This will be a free event with food and commemorative T-shirts available for purchase. Proceeds from the event will go toward community projects in Mexico Beach.
A friendly reminder:

Mexico Beach is a Leave No Trace community, and we appreciate your assistance in helping us keep our beaches clean. Any items left on the beach unattended from 7 p.m. to 7 a.m. will be removed and disposed of by the City of Mexico Beach. Items include, but are not limited to, tents and tent frames, beach chairs, coolers, umbrellas, toys, etc. Also, please fill in any holes before you leave and please remain off the sand dunes and out of the sea oats to ensure their continued nourishment. There are boardwalks and walking paths that can be accessed to reach the beach. Your assistance with these requests will keep our beaches beautiful and pristine. For full details on this ordinance or questions, click here or contact City Hall at (850) 648-5700.
Drunken Pompano
This delicious dish is great for the family table! We publish it with the compliments of the Mexico Beach Artificial Reef Association Seafood Cookbook (www.mbara.org).

INGREDIENTS

1 ½ pound pompano, split
2 Tablespoons pimento, chopped
2 Tablespoons onion, chopped
2/3 cup mushrooms, sliced
2 Tablespoons parsley, chopped
2 Tablespoons buttered breadcrumbs
1/2 teaspoon salt
1 cup chicken stock
1/2 cup dry red or white wine
Ground black pepper, to taste


PREPARATION

Heat the oven to 375 degrees. Place the fish, skin side down, on a greased heatproof platter. Mix the pimento, onion, mushrooms, parsley, buttered breadcrumbs, salt, and pepper in a bowl, then spread the mixture over the fish. Mix the chicken stock and wine and pour it around the fish. Bake, uncovered, for 25 minutes, occasionally basting with the wine-broth mixture. Serve with French bread and a side salad and enjoy.
Anonymous

We know that one of the greatest philosophers in history is "Anonymous," so we thought we would share some of their wisdom.

Always remember the three magic words: "You're right, dear."

You can't make an omelet without breaking a few eggs.

Everyone should have at least two friends—one to talk to and one to talk about.

A lifelong friend is someone you haven't borrowed money from yet.

A meowing cat can't catch mice.

Those who have free seats at a play hiss first.

Only a fool tests the depth of the water with both feet.

The road to success is always under construction.

Teamwork means never having to take all the blame yourself.

No man is truly married until he understands every word his wife is not saying.


Raked over the Coals

We sometimes hear the comment that someone was "raked over the coals," meaning to scold someone critically or harshly rebuke someone over something for which they were responsible. Like many idioms, the exact origin of the phrase is unknown, but there is a good indication of where it came from. Some sources report that the comments are centuries old and relate to someone actually being raked over coals. There is some history dating back to the 1500s indicating that if a church member was against a church teaching, they were literally raked over hot coals as punishment. In some cases, they were deemed innocent if they lived.