Athletes from all over the world travel to Veteran's Memorial Park in St. Joe Beach to run, bike, and swim in this USA Triathlon sanctioned event. Well-marked courses follow along the beautiful white sand beaches and pine forest of the Gulf Coast. This sprint is organized by certified staff and wonderful volunteers who love the sport.
Following the race, athletes and their friends and family celebrate the accomplishments of the day with great food at the Beacon Hill Park.
Beach Blast TRI & DU happens twice a year in April and September.
2013 is the ninth year for the event. Races take place on the beautiful Gulf Coast and its magical beaches.
Season 2013 will bring Beach Blast on April 27 and September 14.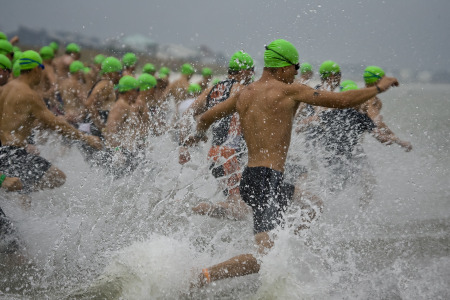 Sign up link for April 27, 2013 here
BEACH BLAST consists of 4 races; pick yours:
Sprint Triathlon 0.35 mile swim – 15 mile bike – 3.1 mile run
Sprint Duathlon 1.2 mile run – 15 mile bike – 3.1 mile run
Olympic Triathlon 0.7 mile swim – 25 mile bike – 6.2 mile run
Olympic Duathlon 3.1 mile run – 25 mile bike – 6.2 mile run
Learn more about the bi-annual Beach Blast by contacting Race Director Olga Cemore 850-522-6666 or visit www.beachblasttriathlon.com for rules and registration details.
---