The St. Joseph Bay Humane Society (SJBHS) presents the seventh annual Bow Wow Bash!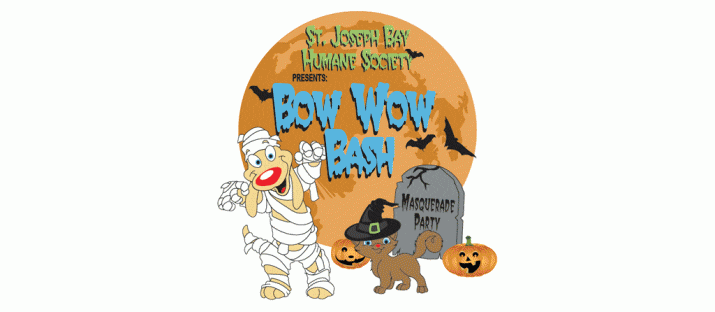 The Bow Wow Bash Masquerade Party will be held in the Port St. Joe Centennial Building on SATURDAY, OCTOBER 27th from 6 p.m.–10 p.m. EST. Delicious food, a cash bar, masquerade contest (costumes optional) and guests can boogie down to awesome music. A silent and live auction (credit cards accepted) will culminate with the drawing for the winner of a new iPad (see details).
All proceeds from this function will be used to help the needy animals in Gulf County. Hundreds of animals are abandoned every year in our area and money raised at these events will help us comfortably house and care for these animals, while they are waiting for their forever homes.
Tickets for the nighttime event are $30 each or $300 for a reserved table for 10, which includes a free drink ticket per person, and can be purchased by clicking here.
If you cannot attend our event this year, please consider a donation to help us save more animals by clicking here. Everything, however small, is greatly appreciated and with every donation of $10 you will be eligible for our drawing for a new iPAD giveaway.
Visit BowWowBash.org to purchase tickets or for more information!
St. Joe Bay Humane Society is a 501 (c) 3 nonprofit organization that serves all of Gulf County: www.sjbhumanesociety.org, www.dawgsinprison.com
---