On November 27, 2012, Mexico Beach was honored to accept a grant awarded by the BP Gulf Tourism and Seafood Promotional Fund in the amount of $200,000! The grants were given to several great organizations along the Emerald Coast region in order to continue the efforts put forth by the area to highlight our beautiful beaches, outdoor adventure opportunities, unparalleled fishing, and everything else we love about living here, so that we may share our little piece of paradise with others.
Members of the Mexico Beach Community Development Council accepted the grant, presented at Ocean's Bar & Grill at Edgewater Beach & Golf Resort in Panama City Beach by Mr. Patrick Juneau, representative for the Gulf Tourism and Seafood Promotional Fund.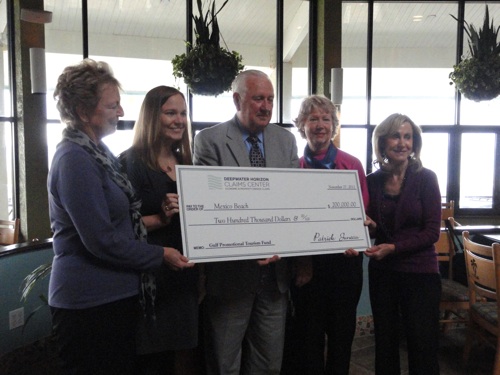 The money has been allocated to initiate an online campaign to promote Mexico Beach to tourists and travelers. With these funds we will aid family vacationers seeking solitude, snowbirds in search of warmth, and empty nesters seeking to reconnect and recharge. Mexico Beach could not be more thrilled to receive this grant, and we look forward to the opportunities it will allow future guests, as well as our cherished residents, to keep making memories on The Unforgettable Coast!
---