This perfect little Florida town has it all!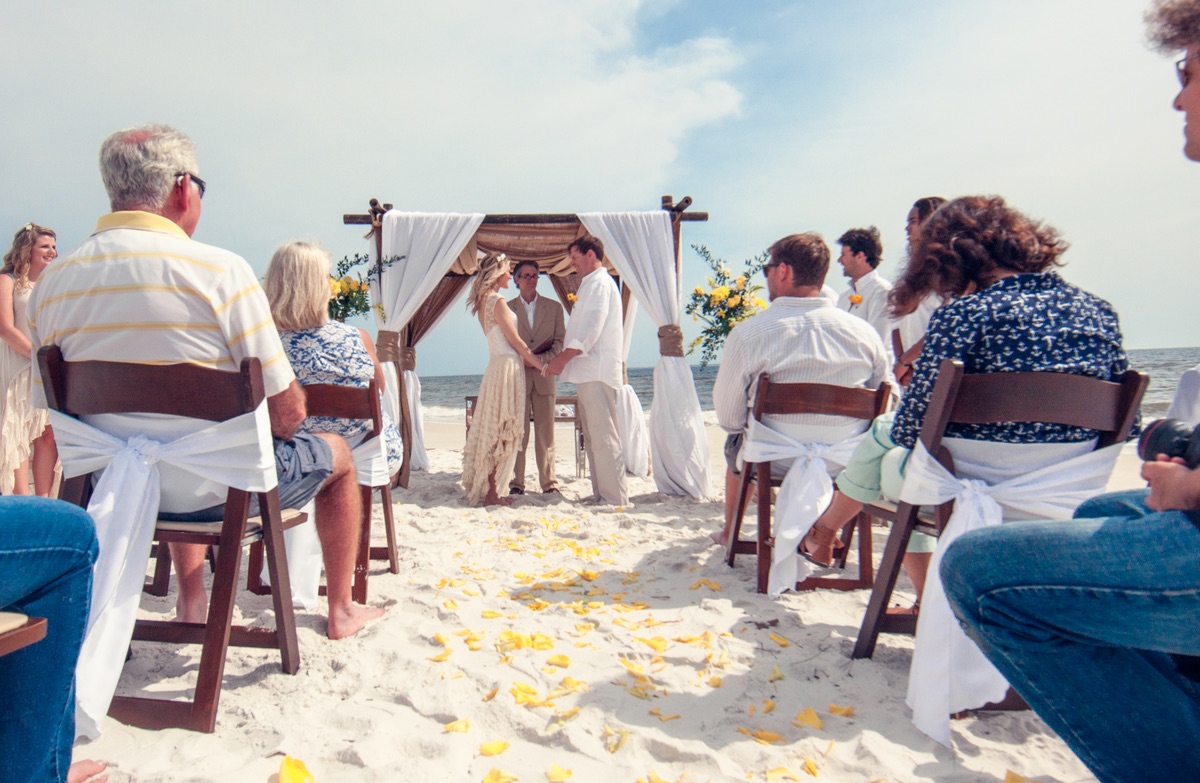 Mexico Beach, Fla. (December 2017) – A beach destination wedding is a dream for many couples around the world. Saying "I do" with the waves gently lapping in the background and the sun sinking below the horizon is like a scene from a fairy tale. Mexico Beach, Florida, on the Gulf of Mexico is a perfect place for couples to celebrate quiet nuptials and receptions on sugary white sands. Local experts in everything from tent rentals to videography are available to help plan every detail to perfection and make the Big Day go smoothly. The mild climate and beautiful scenery make weddings here unforgettable any time of year.
Here's what makes Mexico Beach an exceptional beach wedding destination:
The Beach
It might seem like the obvious reason, but we can't express enough love for our beaches. The white sands almost look like snow on the ground. This is thanks to the fine quartz crystals that have been carried down from the Appalachian Mountains by streams and rivers, then deposited into the Gulf of Mexico just east of Mexico Beach. The dazzling white sand and clean water attract visitors from far and wide to our shores and make an exceptional backdrop for wedding ceremonies and photos year-round. There are also plenty of churches and wedding chapels nearby to host your ceremony if you so desire.
The Quiet
Have you ever visited the beach and seen an altar and chairs being set up nearby with a gaggle of tourists lounging in the background? You might have thought, "I wouldn't want all those strangers in my wedding photos." Mexico Beach is a quiet little oasis, tucked away from the hustle and bustle of bigger beach towns in Northwest Florida. There are no high-rise condos, no traffic lights, and no huge crowds to spoil your trip. The locals take pride in the fact that the area is part of the "Forgotten Coast," where the Old Florida lifestyle is serene and respectful of nature. Of course, Mexico Beach likes to call it The Unforgettable Coast® instead. Memories made there will last a lifetime—especially when a happy couple says, "I do" in front of friends and loved one on these tranquil shores!
Places to Stay
From adorable inns and motels on the beach to vacation rentals of every shape and size, Mexico Beach has you and your wedding party covered with accommodations for your beach destination wedding. Friends and family can find great deals on houses, condominiums, and rooms when they search our Places to Stay page. Many of our homeowners and rental managers have special rates year-round. They are also easy to work with when it comes to booking accommodations for large parties. Let us help you, your wedding party, and all your guests stay comfortably and affordably when you plan your wedding in Mexico Beach.
Expert Wedding Vendors
We want your special day to go off without a hitch (except for the hitching of two lovebirds)! There are top-notch wedding planners, photographers and videographers, florists, caterers, bakeries, tent and event rental providers, program printers, and more in our area just waiting for your call to start planning the wedding of your dreams. Check out our Weddings page and FREE Wedding Resources Guide and FAQ Sheet. It's time to take the first step toward the rest of your lives today.
Your Dream Vow Renewal
One of our favorite things about weddings on the beach is seeing loving couples return to our shores to renew their vows. Beach vow renewals are beautiful, and many people flock to Mexico Beach to say "I still do" every year. A vow renewal ceremony can be the perfect excuse for an anniversary trip, a family reunion, or just a weekend getaway with your honey! Plus—each year, Mexico Beach invites couples to join us for the Annual Vow Renewal Ceremony, where we provide all the details and all you have to do is sign up to join. Our 2017 event took place on April 8 near Sunset Park, with nearly 30 couples enjoying an afternoon celebration on the beach with their families and loved ones. A complimentary reception followed, and all who participated had a great time! Check out photos from our three spectacular mass vow renewal events and register for the Fourth Annual Vow Renewal Ceremony coming April 14, 2018, at MexicoBeach.com.
These are just a few of the best reasons to plan a dream beach wedding here on The Unforgettable Coast®. Learn more on our Weddings page at MexicoBeach.com, and give us a call if you have any questions at (850) 648-8196 or (888) 723-2546. We'd be happy to assist you.
###
About Mexico Beach, Florida
Since 1946, the three miles that make up the city of Mexico Beach have been a tranquil and serene hideaway from the pressures of everyday life. With its close proximity to Panama City Beach and Northwest Florida Beaches International Airport, Mexico Beach has big-city accessibility and a small-town feel, making it The Unforgettable Coast® for a reason. It has been selected as a "Great American Beach Town" by Yahoo! Travel, one of the Gulf Coast's Top 10 by Gulfscapes Magazine, a TripAdvisor top "Affordable Vacation Rental Destination," one of "10 Small Towns to Visit" by Men's Journal, and a Top 10 Vacation Hot Spot by CBSNews.com. Learn more or request a free vacation guide at MexicoBeach.com.
Contact:
Jordan Staggs
Director of Communications
The Idea Boutique®
jordan@theideaboutique.com
(850) 204-2571
Kimberly Shoaf
President
Mexico Beach Community Development Council
kimberly@mexicobeach.com
(850) 648-8196