Dining out can be one of the best things about going on vacation, and the restaurants in Mexico Beach, Florida, do not disappoint! Fuel your beach vacation with fresh Gulf of Mexico seafood, cool drinks, and live music!
A recipe for good times calls for sun, sand, and seafood—which is exactly what you'll find at many Mexico Beach restaurants! Florida flavor and Southern hospitality abound in Mexico Beach, making every dining experience unforgettable. From Killer Seafood, whose reputation is in the name—seriously, their fish tacos are killer—to Mango Marley's hot wings and game day specials, there is something on the menu for everyone! Toucan's, located right on the beach, offers a view of the Gulf from the outdoor seating area and entertains patrons with live music at night. Stop by for an ice cream cone from Mexico Beach Sweets and Treats to cap off a perfect day at the beach!
Whatever you're craving—fresh seafood, burgers, breakfast in the afternoon, or an ice cream on the beach—the restaurants at Mexico Beach treat vacationers to a variety of delicious dishes!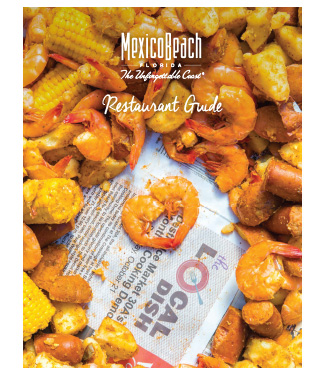 Enter Your E-Mail To Download Our FREE Mexico Beach Restaurant Guide
and discover all the unforgettable eateries along the Gulf. Begin planning your next beach vacation to try them yourself!
---
---