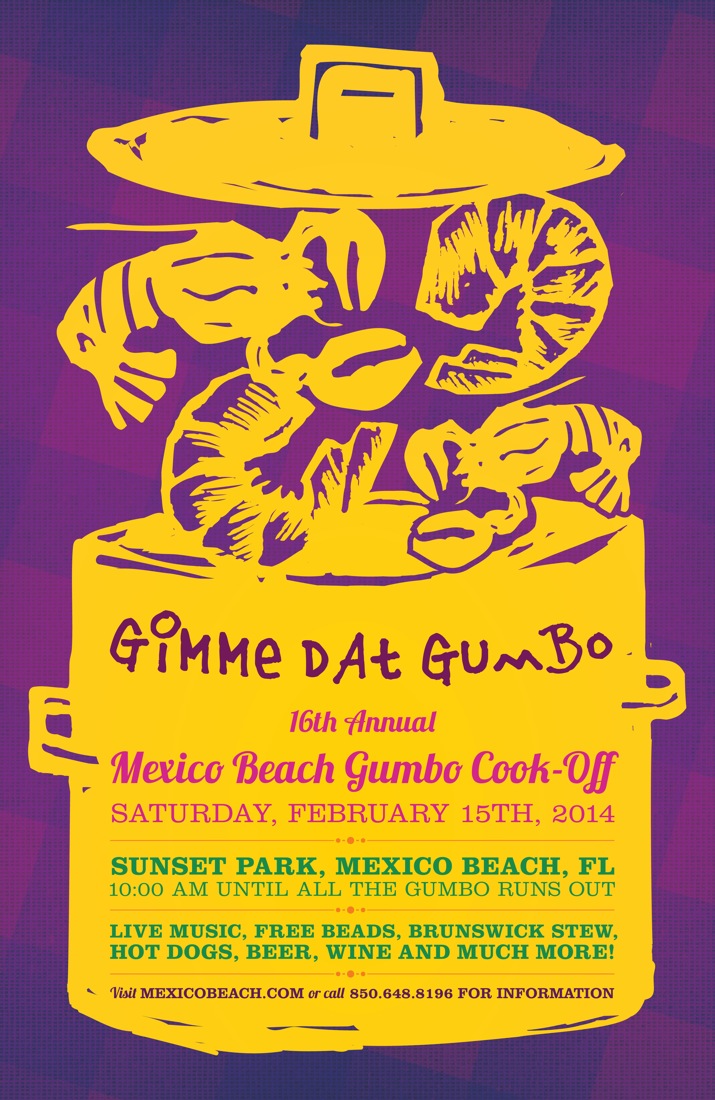 Get ready to grab a spoon and dig in!
It's that yummy time of year again when Mexico Beach is heating up for its annual Gumbo and Brunswick Stew Cook-off, held Saturday, February 15, starting at 10:00 a.m.
Follow your nose to Sunset Park, where giant pots of spicy gumbo and savory Brunswick stew will available for sampling. You can buy tickets for tasting one, two, or as many as you like! After all, you can chalk it up to "research." Plus, this popular event raises funds for Mexico Beach's spectacular Best Blast on the Beach 4th of July fireworks display, and we hope you'll come back for them as well!
What's Brunswick Stew?
If you're not from the Southeast, you may not be familiar with this rich, savory concoction that both Brunswick, Georgia, and Brunswick County, Virginia, both claim as being the first to ever make. Regardless of whose roots are the deepest, Brunswick stew recipes vary far and wide, just as gumbos do. Brunswick stews are alike in the fact that most are tomato-based and include a variety of vegetables, such as lima or butter beans, corn, and various meats. In fact, Brunswick stew is like a flavorful vegetable soup, only thicker and it usually simmers for a good while longer!
Brunswick Stews from the "Deep South" tend to have a distinct smoky taste, which is thanks to barbecued meats such as pork and beef. Stews made south of the Virginia border are also typically thicker, since potatoes are usually a key ingredient. In contrast, Virginia's stews are characteristically thinner, and have a soup-like consistency, since they go heavier on the tomatoes and typically omit the starchy "spud." Virginia hams may be smoky, but their Brunswick stews usually are on the lighter side in terms of meats—and calories—since chicken and rabbit are their preferred proteins.
Who Will Be the Gumbo King?
Below are several contenders for this year's "Restaurant" Gumbo category, who will be competing for 1st, 2nd and 3rd place:
Sanron's Café – 1100 Hwy 98 Mexico Bech
The Thirsty Goat – 501 Monument Ave. Port St. Joe
Mango Marley's – 3104 Highway 98 Mexico Beach
The Fish House – Hwy 98 Mexico Beach
Among those vying to be the Gumbo Kings in the "Individual" Gumbo category are the following:
Gumbo Guroux North – Charleston, SC
Sundance Realty – Mexico Beach
Camp Creek Cookers – Mexico Beach
Chef & the Fat Man – Woodstock, GA
Team Bogator – Decatur, GA
MB Masqueraders – Mexico Beach
Living Water Church at the Beach – Mexico Beach
Bobby Steele – Tallahassee
The Beacon Hill Brigade – Port St. Joe
Mo Betta Gumbo – Steinhatchee, FL
Gumbo Love – Gainesville, GA
Casey Fort – Crawfordville, FL
El Go Gumbo – Mexico Beach
Both "Restaurants" and "Individuals" will be spoon dueling in a fierce competition for top honors in the Brunswick Stew competition. Here's a sample of some of this year's contenders:
Camp Creek Cookers – Mexico Beach
Biker Brew Crew – Port St. Joe
Central Electric of Floyd Co. – Rome, GA
Awards will also be given for "Best Team Spirit," "Best Decorations" and "Farthest Traveled."
Besides lots of great food (BBQ, hotdogs, and beverages will also be available), there will be live music by Stainless Steel and plenty of free beads to get you in the Mardi Gras mood!
Immediately following the Cook-off is the 2nd Annual SEA Art Walk, which is a juried art show proudly hosted by the Society of Expressive Artists (S.E.A). Strung like a strand of pearls up and down Highway 98, local artisans will be displaying their one-of-a-kind works. And since it's Valentine's Weekend—keepsake art makes a wonderful and memorable gift for your sweetheart!
For more information about the 16th Annual Gumbo & Brunswick Stew Cook-off or to participate in the cooking competition with a last minute entry, CLICK HERE. Note: Friday, February 7th is the absolute deadline for entries!
---