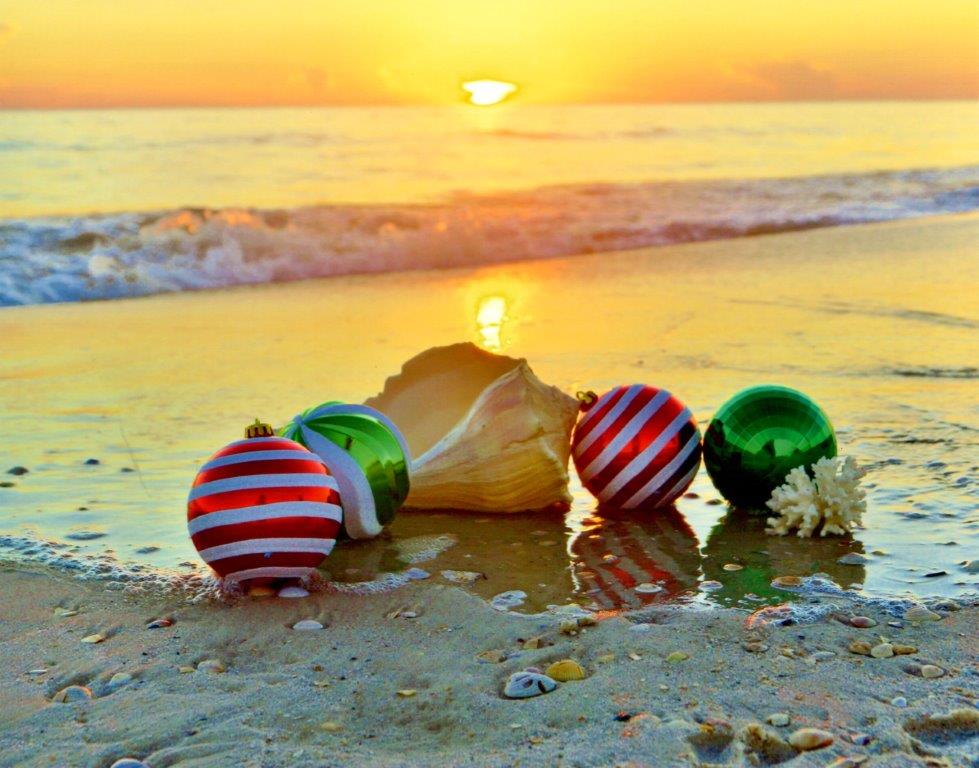 Merry Christmas and Happy Holidays!

From all of us here in Mexico Beach, Florida, we wish you and yours a very Merry Christmas and a warm and pleasant New Year. The holiday times on the beach are some of the best, with the white sands all to yourself. The weather is a tad cooler than the warm summer months, but any day on the sand is better than the snow, in our opinion. We hope you have a peaceful holiday season and plan to visit us in 2022.

Photo by Gloria Sanchez
And the Winner Is. . .
Up for grabs last month was a copy of HOME-Inspirations for Home and Life by VIE coffee-table book from the publishers of VIE magazine. The lucky winner is Paul Hudson from LaGrange, Georgia. Congrats, Paul!


DECEMBER GIVEAWAY
This month's giveaway includes five copies of our 2022 Mexico Beach Calendar, compliments of the Mexico Beach Welcome Center. This calendar is full of beautiful images taken by Mexico Beach visitors. It will be a wonderful addition to help you plan your next trip to our shores. To place your name in the hat, send an email to Kathy at [email protected].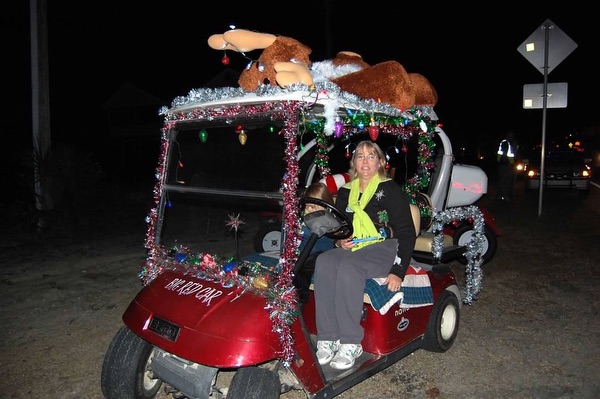 Meet Mexico Beach

This month, we're proud to introduce you to Traci Gaddis, a longtime resident. Traci initially served as our first assistant town clerk before becoming the "first lady" when her husband was elected mayor, a position he held for ten years. Traci is also the creator of a Mexico Beach Christmas tradition. Thirteen years ago, the City Council accepted Traci's recommendation that a parade of holiday-themed decorated golf carts should lead the fire truck carrying Santa to the Christmas Tree Lighting Ceremony to start our annual holiday celebration. This tradition has been very successful-it began with just ten golf carts and has grown to over forty each year! This has become a rich and memorable part of our Christmas celebration. Thank you, Traci, for your great idea and the happiness and enjoyment you bring to our community each year. If you see Traci out and about-typically in her golf cart-be sure to say hello!
For more information on weddings or vow renewal ceremonies on the beach, visit mexicobeach.com.
Katherine and Joe
We would like to introduce you to Katherine and Joe. These loving locals wanted to get married to each other-again. After saying "I do" on Mexico Beach several years ago, they had some tough times; however, they realized true love never dies and were married again on our beaches. At the wedding, they had a surprise visit from Mayor Cathey, who also offered his best wishes. Congratulations, Joe and Katherine!
Mexico Beach Christmas Tree Lighting Ceremony
December 5
It's Christmastime here at the beach! Mexico Beach will once again trade the palm trees for a giant Christmas tree and transform a blank canvas into a magical holiday paradise. The annual Christmas Tree Lighting Ceremony will take place on Sunday, December 5, at 6:00 p.m. at the Mexico Beach Shopping Center, in front of Mango Marley's. The festivities will begin with a warm holiday welcome and music performed by Forgotten Coast Ukulele Orchestra. Then we will introduce this year's tree lighters. After the lighting of the tree, the wait will be on for that special someone to make his grand appearance-Santa Claus!
Mexico Beach Mobile Library
December 16
Come check out a book-or two or three-from the Mobile Library! The Mobile Library will be set up at the Mexico Beach Welcome Center, located at 102 Canal Parkway, from 12:30 p.m. until 3:00 p.m. and is open to the public. It will be stocked with books (print and audiobooks) and DVD movies for all ages. Library patrons can register for a library card and borrow and return items, so if you don't have a library card yet, don't let that stop you! Patrons who place requests for items at other libraries can also pick up those items from the Mobile Library, so you are not limited to the titles on the vehicle. With a nice selection of books, there will be something for everyone to read. Reading is an excellent activity at the beach, so be sure to stop and enjoy the benefits of the library coming to you!
Mexico Beach Gumbo Cook-Off
February 2022
Gumbo is coming back! With the new year comes the return of a crowd favorite. While the official date has not been released, the Annual Mexico Beach Gumbo Cook-Off will take place on a Saturday in February of 2022 and is sure to bring all the fun, flavor, and spices. With a variety of gumbo and Brunswick stew to taste, this will be one hot competition. This year, the event will take place at the Boat Ramp Park, a larger venue that is centrally located just off Highway 98 with plenty of parking and enjoyment along the canal. More details to come about how to enter the competition. If you are more of a taster than a chef, don't worry-you will have plenty to choose from! This event is free to attend. Tickets will be available for purchase the day of the event to sample one, two, or as many gumbos and stews as you like. There will be beverages available, as well as hot dogs and sausage dogs. With live music and free beads, this is one cook-off that will get you in the Mardi Gras mood! All proceeds raised will go toward the Special Events for Mexico Beach's Best Blast on the Beach July 4th fireworks show.
A friendly reminder:

Mexico Beach is a Leave No Trace community, and we appreciate your assistance in helping us keep our beaches clean. Any items left on the beach unattended from 7 p.m. to 7 a.m. will be removed and disposed of by the City of Mexico Beach. Items include, but are not limited to, tents and tent frames, beach chairs, coolers, umbrellas, toys, etc. Also, please fill in any holes before you leave and please remain off the sand dunes and out of the sea oats to ensure their continued nourishment. There are boardwalks and walking paths that can be accessed to reach the beach. Your assistance with these requests will keep our beaches beautiful and pristine. For full details on this ordinance or questions, click here or contact City Hall at (850) 648-5700.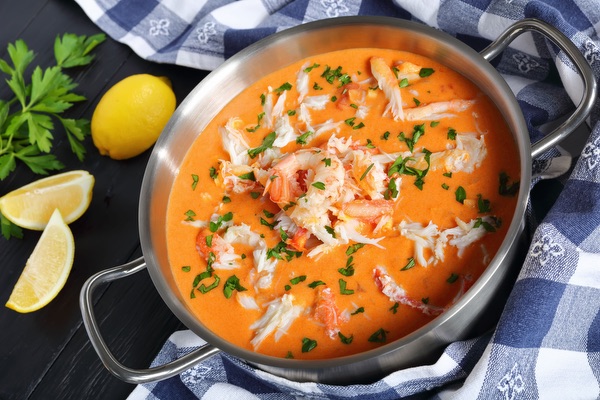 Good Stuff - A Great Wintertime Meal
When the weather cools down, it's time for dishes like hearty soups and stews that will warm your soul. Once you try this easy seafood stew recipe, you'll understand why it's called Good Stuff!
We publish it with the compliments of the Mexico Beach Artificial Reef Association Seafood Cookbook (www.mbara.org).

INGREDIENTS

4 lbs grated or diced potatoes
1 large onion, diced
6 celery stalks, diced
1/2 stick butter
2 lbs crab meat
1 lb scallops
2 lbs shrimp
1 lb fish fillet
1 pint half and half
1 Tablespoon oregano leaves
1 teaspoon dry parsley
1 teaspoon Cajun magic spice
1/2 teaspoon poultry magic spice
1/2 teaspoon garlic powder
1 Tablespoon salt
1/2 teaspoon black pepper
1/2 teaspoon red pepper


Preparation:

Place all ingredients in a large pot on high heat. Boil until the potatoes and seafood are cooked through, then reduce heat to a simmer. Separate the fish fillet into pieces with a fork and stir through the stew. Serve hot and enjoy!
Christmas Trivia

With the Christmas season here, we thought you would enjoy some lesser-known facts about the holiday.

Rudolph the Red-Nosed Reindeer first appeared in 1939 when the Montgomery Ward Department Store created him as a promotional item. It wasn't until 1964 that the movie debuted, and it's endured as a heartwarming part of Christmas tradition.

"Jingle Bells" started as a Thanksgiving song written by James Pierpont in 1857, and the title was "One Horse Open Sleigh." He initially wrote the song for his church's annual Thanksgiving concert. Later, the title changed to "Jingle Bells," and it's still a Christmas hit.

"Jingle Bells" was played in outer space. In December 1965, astronauts Wally Schirra and Tom Stafford aboard Gemini VI played a prank on NASA by reporting a UFO in space. As things got tense, the astronauts interrupted their reporting and played "Jingle Bells," with Wally playing a harmonica and Tom shaking small bells.

"Silent Night" earns the title as the most-recorded Christmas song in history. It was written in 1818 by Franz Gruber for a church in Oberndorf near Salzburg, Austria. Bing Crosby recorded the song in 1935, and his version has sold ten million copies as a single.

If your kids leave Santa a little snack to keep him sated on his journey, thank the Dutch. It was their tradition to leave food and drink on the Feast Day of St. Nicholas on December 6. The custom then expanded.

In response to the overwhelming increase in the mail during the holidays, postal workers from Canada set up a special postal code for Santa and started answering letters. The postal code is HOHOHO.

Candy canes originally came from Germany. Tradition says they were given to young children to keep them quiet during long church services. It wasn't until around 1847 that a German immigrant decorated the tree with them, and they became popular as a Christmas motif.

Tinsel was invented around 1610 in Germany and was originally made from real silver. The government once banned it because it contained lead, but now it's usually made from plastic.


By Hook or by Crook

The meaning of the English phrase "by hook or by crook" is that some goal will be met or achieved through any legal or illegal means. Whatever it takes, success will be achieved. One origin is suggested to have been from a custom decreed by wealthy landlords that their workers and local peasants were permitted to gather firewood from the landowner's forest or common land; however, they were only allowed to take wood they could reach with their arms, a bullhook, or a shepherd's crook. So, if they could reach with a hook, it was legal, but it was illegal if they gathered wood any other way.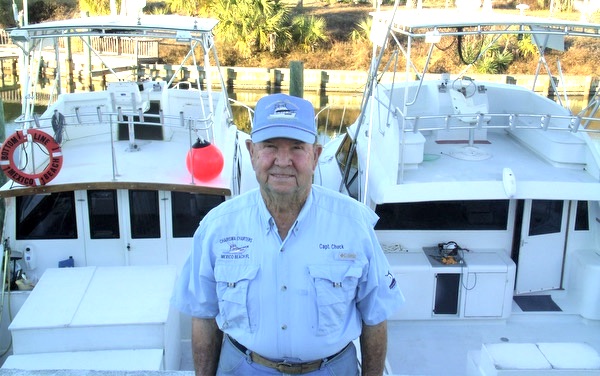 A Final Salute: Charles E. Guilford

On October 30, 2021, we lost a patriot and community leader. Charles E. Guilford, most notably known as Captain Chuck, passed away at his home at the age of 91. In 1950, Chuck graduated from Port St. Joe High School and was drafted into the United States Army a year later. He served in Korea and Vietnam, then was assigned to the Pentagon for several years. In 1971, he retired as a Lieutenant Colonel. After his military service, Chuck returned to Mexico Beach and became a local businessman and community servant. He served as Mayor of Mexico Beach from 1972 to 1976. Chuck also assisted in building the first artificial reef off the shores of Mexico Beach in the Gulf, known as the Car Body Reef. He was involved in developing Mexico Beach into the wonderful place we all know and love. We send our condolences to his family. Thank you, Captain Chuck. You will be greatly missed.