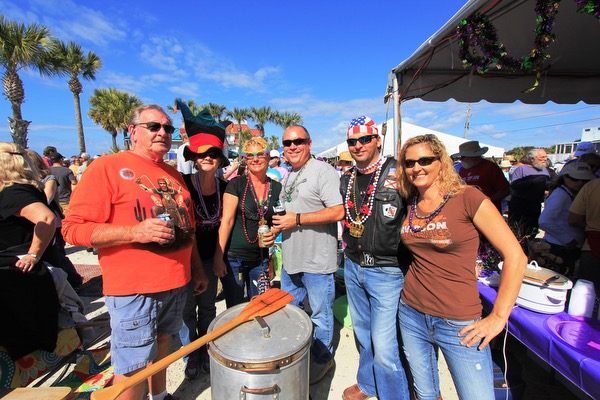 February Is for Love & Gumbo!

This is the month of "love," and what shows more love than the return of a crowd-favorite occasion here in Mexico Beach? The world-famous Gumbo Cook-Off is returning for the 22nd time! This event, which had to be postponed last year, is sure to bring all the flavor, fun, and love. Live music, award-winning gumbo and Brunswick stew, and delightful bartenders will be standing by to ensure your day in Mexico Beach will be fulfilling. We hope you'll mark your calendars to enjoy not only this fantastic event on February 19 but all the great things coming up this month here in Mexico Beach!

And the Winner Is. . .
Up for grabs last month was a gift certificate to the Shell Shack, and the lucky winner is Brian Segool from Buford, Georgia. Congrats, Brian!


FEBRUARY GIVEAWAY
This month's giveaway is a gift certificate for a men's haircut and a size XL long-sleeve dry-fit T-shirt from White Sands Salon & Boutique. Come to the beach and get pampered! White Sands Salon and Boutique is a full-service hair salon also offering pedicures, manicures, and much more. They also have boutique clothing and accessories. To place your name in the hat, send an email to Kathy at kathy@mexicobeach.com.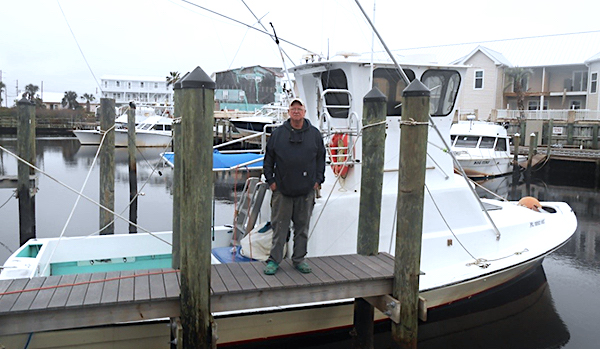 Meet Mexico Beach

Fishing is great, especially in Mexico Beach! Two of the best aspects of our town are the amazing fishing year-round and our experienced fishermen/women. This month we would like to introduce you to Captain Chip Blackburn. Capt. Chip and his boat Miss Mary have been fishing our waters for over twenty years. The Miss Mary offers a variety of fishing charter options for you to enjoy all year and is sure to provide unforgettable memories. Be sure to stop along the docks in the early afternoons and see what Capt. Chip and his crew have caught!
For more information on weddings or vow renewal ceremonies on the beach, visit mexicobeach.com.
Tricia and Bill
This month we would like to offer our congratulations to Bill and Tricia, who came to our beach from nearby Panama City to renew their vows. They have been married for fourteen years! Together, they had a beautiful ceremony on the beach with their son Joe, and the weather was very accommodating. Congratulations, Bill and Tricia.
Farmers & Craft Market
February 12 & 26
Beginning February 12, the Mexico Beach Farmers & Craft Market will be returning! The market will take place every second and fourth Saturday of the month at Parker Park, located at 2500 Highway 98, in beautiful Mexico Beach. Vendors will include produce, fresh jellies, one-of-a-kind crafts, and much more. Enjoy the day shopping from booth to booth while supporting local businesses. There are sure to be new offerings at each market, so come enjoy them all. Market hours will be from 9:00 a.m. until 1:00 p.m. If you'd like to be a vendor, sign up now! Space is limited, so don't wait. Please review all regulations. This market is put on by the Special Events for Mexico Beach, Inc. All proceeds will go toward the July 4th Best Blast on the Beach fireworks show.
Mexico Beach Mobile Library
February 17
Come check out a book-or two or three-from the Mobile Library! The Mobile Library will be set up at the Mexico Beach Welcome Center, located at 102 Canal Parkway, from 12:30 p.m. until 3:00 p.m. and is open to the public. It will be stocked with books (print and audiobooks) and DVD movies for all ages. Library patrons can register for a library card and borrow and return items, so if you don't have a library card yet, don't let that stop you! Patrons who place requests for items at other libraries can also pick up those items from the Mobile Library, so you are not limited to the titles on the vehicle. With a nice selection of books, there will be something for everyone to read. Reading is an excellent activity at the beach, so be sure to stop and enjoy the benefits of the library coming to you!
Mexico Beach Gumbo Cook-Off
February 19
Gumbo is coming back! With the new year comes the return of a crowd favorite. The 22nd Annual Mexico Beach Gumbo Cook-Off will take place on Saturday, February 19, and is sure to bring all the fun, flavor, and spices. With a variety of gumbo and Brunswick stew to taste, this will be one hot competition. This year's event will take place at Parker Park. With live music and free beads, this is one cook-off that will get you in the Mardi Gras mood! All proceeds raised will go toward the Special Events for Mexico Beach's Best Blast on the Beach July 4th fireworks show.
Forgotten Coast En Plein Air
March 18–27
The Forgotten Coast is excited to welcome internationally acclaimed artists to capture the natural beauty, character, and local culture through the plein air tradition. The 17th Annual Plein Air Paint-Out along Florida's Forgotten Coast will kick off in March 2022. Acclaimed artists from the US and around the world will gather along the region to capture what some believe to be the last vestige of authentic "Old Florida." From the western end of Mexico Beach to the east side of Alligator Point, artists can be seen painting alongside the roads overlooking the Gulf, as well as in out-of-the-way settings. This event includes daily artist demonstrations, workshops, and sales of locally created art.
A friendly reminder:

Mexico Beach is a Leave No Trace community, and we appreciate your assistance in helping us keep our beaches clean. Any items left on the beach unattended from 7 p.m. to 7 a.m. will be removed and disposed of by the City of Mexico Beach. Items include, but are not limited to, tents and tent frames, beach chairs, coolers, umbrellas, toys, etc. Also, please fill in any holes before you leave and please remain off the sand dunes and out of the sea oats to ensure their continued nourishment. There are boardwalks and walking paths that can be accessed to reach the beach. Your assistance with these requests will keep our beaches beautiful and pristine. For full details on this ordinance or questions, click here or contact City Hall at (850) 648-5700.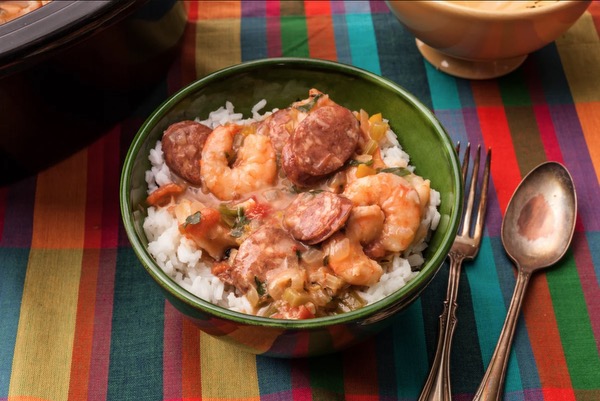 New Orleans Shrimp Gumbo
This gumbo recipe is sure to be a hit!
We publish it with the compliments of the Mexico Beach Artificial Reef Association Seafood Cookbook (www.mbara.org).

INGREDIENTS

For the Roux
3/4 cup vegetable oil
3/4 cup all-purpose flour

For the Gumbo
1 1/2 cups celery
1 1/2 cups onion
1 1/2 cups red bell pepper
1 1/2 cups carrots
1 1/2 cups okra
4 large garlic cloves, minced
1 pound Conecuh brand smoked sausage, sliced
1 1/2 pounds raw, shelled, deveined shrimp
1 Tablespoon Paul Prudhomme's magic dust
1 Tablespoon Old Bay seasoning
3/4 teaspoon thyme
2 teaspoon Worcestershire sauce
1/2 to 3/4 teaspoon cayenne pepper
3 bay leaves
12 ounces amber beer
5 cups chicken stock
3 chicken bouillon cubes
Steamed rice


Preparation:

For the Roux
Heat oven to 350 degrees. Mix oil and flour in an ovenproof soup or stew pot. Place in the oven, stirring every 10 minutes until you get a deep copper color. This will take about 45 minutes.

For the Gumbo
Slice the vegetables. When your roux is the desired color, transfer it to the stovetop on medium heat. Add vegetables, stirring frequently, and cook for 4 to 5 minutes. Add garlic and cook for 30 seconds. Add beer, chicken stock, chicken bouillon cubes, sausage, and spices. Bring to a boil, then reduce heat to simmer and cook for 1 hour. After about 30 minutes, skim the excess oil. Add prepared shrimp and cook for 2 minutes. Ladle gumbo over steamed rice. Enjoy!
We Love Dogs!

Never stand between a dog and a fire hydrant.

There is no psychiatrist in the world like a puppy licking your face.

Dogs laugh, but they laugh with their tails.

You can say any foolish thing to a dog, and the dog will give you a look that says, "Wow, you're right! I never would've thought of that!"

A dog is one of the remaining reasons some people can be persuaded to go for a walk.

Dogs teach us a very important lesson in life: the mailman is not to be trusted.

Scratch a dog and you'll find a permanent job.

If there are no dogs in heaven, then when I die, I want to go where they went.

If you think dogs can't count, try putting three dog biscuits in your pocket and then give him only two of them.

A well-trained dog will make no attempt to share your lunch. He will just make you feel so guilty that you cannot enjoy it.


Murphy's Law

We've all heard the expression "Murphy's Law." This law means that if something can be done wrong or improperly or can go wrong, it will. The origin seems to go back to the late 1940s when an Air Force Captain named Edward A. Murphy was working at Edwards AFB testing jet sleds for acceleration and deceleration. Some parts were installed wrong, and Captain Murphy was talking about the mechanic that installed the parts and remarked, "If there is any way to do it wrong, he'll find it." The 'law' then became part of our vocabulary.