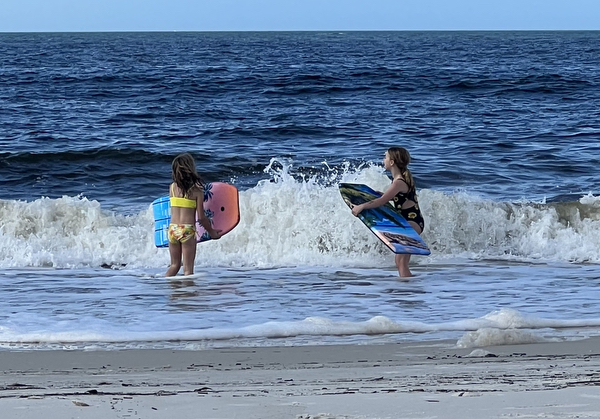 The Beach Awaits

What could be better than the beach? Warm weather has arrived, and our beachgoers are truly enjoying the sun, waves, and relaxation. Give a couple of kids a boogie board to hit the water with and listen to the squeals of childhood fun! Our sparkling waters, blue skies, and white-sand beaches make for an ideal day of fun for the whole family.
And the Winner Is. . .
Up for grabs last month was a KCSF baseball cap from KC Sportfishing, and the lucky winner is Sherri C. from Anderson, South Carolina. Congrats, Sherri!


APRIL GIVEAWAY
This month's giveaway is a free three (3) day beach game rental of either cornhole, large connect four, or spike ball from Bentley's on the Beach. Carrying everything you need to make your stay at the beach relaxing and fun, Bentley's on the Beach offers a variety of beach gear rentals, offering delivery and pick up at your vacation home to make things seamless for your next trip. To place your name in the hat, send an email to Kathy at kathy@mexicobeach.com.

Meet Mexico Beach

This month, we are delighted to reintroduce the Mexico Beach Marina, a full-service facility with friendly staff who can answer all your boating and fishing questions. They have almost everything you need to enjoy a day on the Gulf. The ship store offers apparel, boating equipment, snacks, and much more. Next time you're gearing up for a day on the water or beach, be sure to stop by the Mexico Beach Marina, say hello, and stock up!
Farmers & Craft Market
April 9 & 23
Come spend the morning at the Mexico Beach Farmers & Craft Market. The market will take place every second and fourth Saturday of the month at Parker Park, located at 2500 Highway 98. Vendors will include produce, fresh jellies, one-of-a-kind crafts, and much more. Market hours will be 8:00 a.m. until 12:00 p.m. At each market, there are sure to be new vendors, so be sure to come every time. If you'd like to be a vendor, sign up now! Space is limited, so don't wait. This market is put on by the Special Events for Mexico Beach, Inc. All proceeds will go toward the July 4th Best Blast on the Beach Fireworks Show.
Mexico Beach Mobile Library
April 14
Come check out a book—or two or three—from the Mobile Library! The Mobile Library will be set up at the Mexico Beach Welcome Center, located at 102 Canal Parkway, from 12:30 p.m. until 3:00 p.m. and is open to the public. The Mobile Library will be stocked with books for all ages (print and audiobooks). Patrons will be able to register for a library card to borrow and return items, so if you don't have a library card yet, don't let that stop you. With a nice selection of books, there will be something for everyone to read. Reading is a wonderful activity perfect for the beach, so be sure to stop and enjoy the benefits of the library coming to you!
Mexico Beach Annual Photography Contest
April 1–July 31
Get ready to print those pictures and try your hand at our annual photography contest. The Mexico Beach 22nd Annual Photography Contest will take submissions between April 1 and July 31, 2022. We welcome all photographs taken in Mexico Beach, past or present. All pictures will be submitted for judging after July 31, and the winners will be contacted and announced on the Mexico Beach website, social media pages, and in the e-newsletter. After judging, we will display the winning photographs in the Mexico Beach Welcome Center. Categories are Around Mexico Beach, Sunrises & Sunsets, The Beach, Fishing & Boating, People, and Flora & Animal Life. We hope you will capture Mexico Beach through your "eyes" and enter our photography contest.
EggStravaganza
April 16
The City of Mexico Beach will be hosting an Easter EggStravaganza on Saturday, April 16, 2022. Bring your baskets to Under the Palms Park, located on the corner of 7th Street and Maryland Boulevard, from 10:00 a.m. to 12:00 p.m. The event is complimentary, and the egg hunt is open to youth ages 0-10 years old. Easter eggs, ice cream, and prizes are donated courtesy of Mexico Beach Sweets. The Easter Bunny is also scheduled to hop by, so bring your cameras for a photo opportunity! For questions, please call City Hall at (850) 648-5700.
Punch on the Porch
May 6
To celebrate National Travel & Tourism Week, the Mexico Beach Welcome Center cordially invites all our visitors to join us for Punch on the Porch. On Friday, May 6, from 9:00 a.m. until noon, the Welcome Center will be offering light refreshments, giveaways, industry updates, games, and more. We would like to show our appreciation to our service industry partners, first responders, and you, our loyal visitors. Come join us for an unforgettable morning.
A friendly reminder:

Mexico Beach is a Leave No Trace community, and we appreciate your assistance in helping us keep our beaches clean. Any items left on the beach unattended from 7 p.m. to 7 a.m. will be removed and disposed of by the City of Mexico Beach. Items include, but are not limited to, tents and tent frames, beach chairs, coolers, umbrellas, toys, etc. Also, please fill in any holes before you leave and please remain off the sand dunes and out of the sea oats to ensure their continued nourishment. There are boardwalks and walking paths that can be accessed to reach the beach. Your assistance with these requests will keep our beaches beautiful and pristine. For full details on this ordinance or questions, click here or contact City Hall at (850) 648-5700.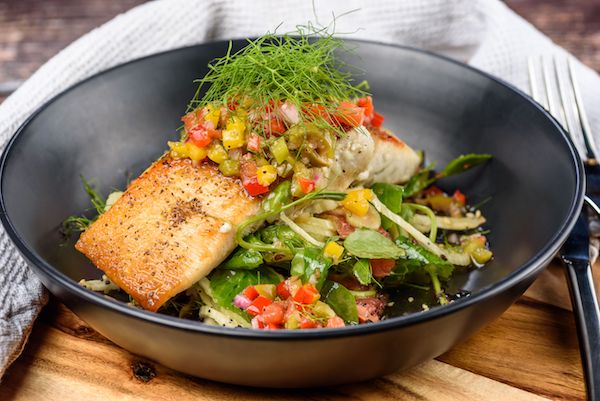 Pan-Seared Grouper & Tropical Salsa
A delicious spring dish!
We publish it with the compliments of the Mexico Beach Artificial Reef Association Seafood Cookbook (www.mbara.org).

TROPICAL SALSA INGREDIENTS

2 cups cubed mango
2 cups cubed pineapple
2 cups cubed papaya
1 cup diced roasted peppers
1 bunch chopped cilantro leaves
Juice from 2 limes
2 Tablespoon diced jalapeños


GROUPER INGREDIENTS

2–4 grouper fillets
2 Tablespoon olive oil
Cajun spice, for coating
Mixed greens, for serving


Directions:

In a large bowl, mix all salsa ingredients gently with a spoon. Let the salsa sit while you prepare the grouper. Heat the olive oil in a cast-iron frying pan until it's smoking. Coat both sides of the grouper with Cajun spice, then place the coated grouper in the pan. Cook for 2 to 3 minutes per side, depending on fish thickness, until done. Transfer grouper to a serving dish, placing it on a bed of mixed greens. Spoon the Tropical Salsa on top of the fish, serve, and enjoy!
Gymnastics

This sport is one of the oldest games and the basis of the modern Olympics. Of course, gymnasts have their version of preparing for an event and their own vocabulary. Here is some gymnastic humor.

It's not rude to yell, "Stick it!"
Deductions have nothing to do with tax returns.
Gymnastics is flipping fun.
Yes, we can do those "flippy things."
You don't need to go to science class to understand gravity.
Bananas and ice cream have nothing to do with splits here.
Gymnasts are highflyers.
Why walk when you can cartwheel?
Gymnasts don't keep money in "vaults."
Gymnastics is blood, sweat, and chalk.



A Wet Blanket

This antiquated saying generally means a person who spoils other people's fun or enjoyment. The phrase dates back to the 1800s and is traced to a custom that cooks had of keeping a wet blanket on the floor of the kitchen in case of a common grease fire. It is now used to describe a person who similarly douses the mood with a poor attitude that keeps others from having fun. An example is saying not to invite someone to a party because they're a "wet blanket" and will take some of the fun out of it.