24 Hours of Beach Time

Our beach is fun and enjoyable in the mornings and throughout the day. You can enjoy several activities, including shelling, fishing, yoga, or sandcastle building! However, our sunsets are spectacular and watching one can be a great way to end the day by relaxing and taking in the peacefulness. Visitors from all over, including Greg and Deb from Boston, have come to understand all the unforgettable things that Mexico Beach has to offer.
And the Winner Is. . .
Up for grabs last month was a free three-day beach game rental from Bentley's on the Beach. The lucky winner is Susan Maxwell from Whigham, Georgia. Congrats, Susan!


MAY GIVEAWAY
This month's giveaway is a gift certificate to Mexico Beach Sweets. From hand-dipped ice cream and favorite candies to souvenirs and one-of-a-kind treats, Mexico Beach Sweets has you covered. To place your name in the hat, send an email to Kathy at kathy@mexicobeach.com.

Meet Mexico Beach

This month, we are delighted to introduce Bracewell's Flooring and Fencing. If you are planning to rebuild or remodel, Bracewell's can help with your flooring and fencing needs. They are located on the corner of 41st Street and Highway 98. The friendly staff can assist with any of your needs or questions, Monday through Saturday. They support the do-it-yourself customer, or they can have one of their knowledgeable installers work for you. While you are there, you can meet Billy, the sales manager, or Karen Pittman, the owner. Be sure to stop in and say hello.
For more information on weddings or vow renewal ceremonies on the beach, visit mexicobeach.com.
John and Chasity
We would like to introduce you to John and Chasity. They came from Louisiana after learning of our beautiful beaches and knowing this was where they wanted to exchange their vows. It was a sunny spring wedding. Congratulations, John and Chasity!
Punch on the Porch
May 6
To celebrate National Travel & Tourism Week, the Welcome Center cordially invites all our visitors to join us for Punch on the Porch. On Friday, May 6, from 9:00 a.m. until noon, the Mexico Beach Welcome Center will be offering light refreshments, giveaways, industry updates, games, and more. We would like to show our appreciation to our service industry partners, first responders, and YOU, our loyal visitors. Come join us for an Unforgettable Morning.
Farmers & Craft Market
May 14 & 28
Come spend the morning at the Mexico Beach Farmers & Craft Market at Parker Park, located at 2500 Highway 98. Vendors will include produce, fresh jellies, one-of-a-kind crafts, and much more. Market hours will be 8:00 a.m. until 12:00 p.m. Each market is sure to have new vendors, so be sure to come every time. If you'd like to be a vendor, sign up now, as space is limited. This market is put on by the Special Events for Mexico Beach, Inc. All proceeds go toward the July 4th Best Blast on the Beach Fireworks Show.
Mexico Beach Mobile Library
May 19
Come check out a book—or two or three—from the Mobile Library! The Mobile Library will be set up at the Mexico Beach Welcome Center, located at 102 Canal Parkway, from 12:30 p.m. to 3:00 p.m. and is open to the public. The Mobile Library will be stocked with books for all ages (print and audiobooks). Library patrons will be able to register for a library card and borrow and return items. So, if you don't have a library card, don't let that stop you. With a nice selection of books, there will be something for everyone to read.
Mexico Beach Annual Photography Contest
Now through July 31
Get ready to print those pictures and try your hand at our annual photography contest. The Mexico Beach 22nd Annual Photography Contest will take submissions between April 1 and July 31. We welcome all photographs taken in Mexico Beach, past or present. All photographs will be submitted for judging after July 31, and the winners will be contacted and announced on the Mexico Beach website, on our social media pages, and in the e-newsletter. Winning photographs will be displayed in the Mexico Beach Welcome Center after judging. We hope you will capture Mexico Beach through your "eyes" and enter our photography contest.
Gollywhopper Classic
June 18
It's the first fishing tournament of the year! The annual Gollywhopper Classic is set for June 17 and 18, 2022. Both the Captain's Party and Weigh-In will take place at the Mexico Beach Boat Ramp Park, located at 109 44th Street. This year's categories are Red Snapper, Grouper, and King Mackerel. There will also be a youth division (14 and under). Get ready to fuel up, head out, have fun, and take your chance at winning some great cash prizes. The Captain's Party will be held Friday, June 17, at 5:00 p.m. Weigh-In will take place on Saturday, June 18, from 3:30 p.m. to 5:30 p.m. Both nights will feature live music and food. This is one tournament you'll want to enter!
A friendly reminder:

Mexico Beach is a Leave No Trace community, and we appreciate your assistance in helping us keep our beaches clean. Any items left on the beach unattended from 7 p.m. to 7 a.m. will be removed and disposed of by the City of Mexico Beach. Items include, but are not limited to, tents and tent frames, beach chairs, coolers, umbrellas, toys, etc. Also, please fill in any holes before you leave and please remain off the sand dunes and out of the sea oats to ensure their continued nourishment. There are boardwalks and walking paths that can be accessed to reach the beach. Your assistance with these requests will keep our beaches beautiful and pristine. For full details on this ordinance or questions, click here or contact City Hall at (850) 648-5700.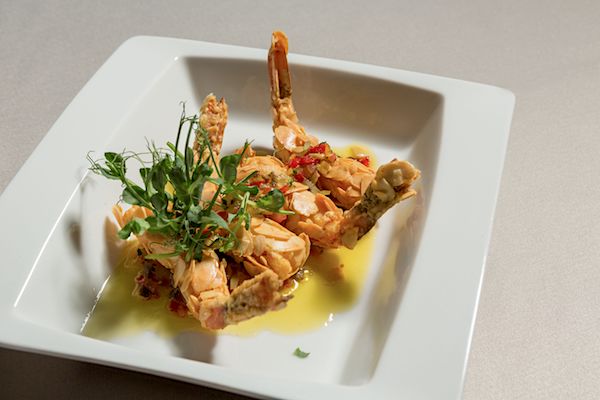 Almond-Crusted Shrimp
Great for those afternoon outdoor dinner meals!
We publish it with the compliments of the Mexico Beach Artificial Reef Association Seafood Cookbook (www.mbara.org).

INGREDIENTS

1/2 cup flour
1 1/4 tsp salt
1 large egg
2 Tablespoon water
1 cup panko crumbs
1/2 cup sliced almonds
16 shrimp, peeled and deveined, tails on
1/4 cup butter, melted


Preparation:

Heat oven to 375 degrees. Grease a 15x10x1-inch pan. In a shallow dish, mix flour and salt. In another shallow dish, beat egg and water with a whisk until well blended. In a third shallow dish, combine panko and almonds. Coat shrimp with flour mixture. Dip shrimp into the egg, coating well, and finally cover with panko and almonds. Once again, coat shrimp with flour mixture. Dip shrimp into the egg, coating well, and cover with the panko mixture, spooning mixture over shrimp and pressing to coat. Place coated shrimp in a pan and drizzle with butter. Place on the baking dish and bake for 30 to 35 minutes or until shrimp are pink and firm. Serve with your favorite sides and enjoy.
For the Love of Food

We all eat! Here are some great remarks on the art of eating.

"How do I like my eggs? In cake." —Unknown

"Without ice cream, there would be darkness and chaos." —Don Kardong

"All you need is love. But a little chocolate now and then doesn't hurt." —Charles M. Schulz

"Never eat more than you can lift." —Miss Piggy (Jim Henson)

"I always cook with wine. Sometimes I even add it to the food." —WC Fields

"The trouble with eating Italian food is that five or six days later, you're hungry again." —George Miller

"I love you like a fat kid loves cake." —Scott Adams

"Seize the moment! Remember all those women on the Titanic who waved off the dessert cart." —Erma Bombeck

"Mayonnaise. One of the sauces that serve the French in place of a state religion." —Ambrose Bierce

"Part of the secret of success in life is to eat what you like and let the food fight it out inside." —Mark Twain


Born with a Silver Spoon in His Mouth

This saying's meaning refers to a child of wealthy parents. The British aristocracy often provided silver spoons for newly born children or grandchildren when christened, and the offspring were reported as having been born with a silver spoon in their mouth. Silver spoons were also noted to be carried by farmers to distinguish them from farm employees. The first notice of the phrase was in Peter Anthony's translation of Don Quixote in 1719. He wrote, "Mum, Teresa, quoth Sancho, 'tis not all Gold and glisters (sic), and every Man was not born with a Silver Spoon in his Mouth."