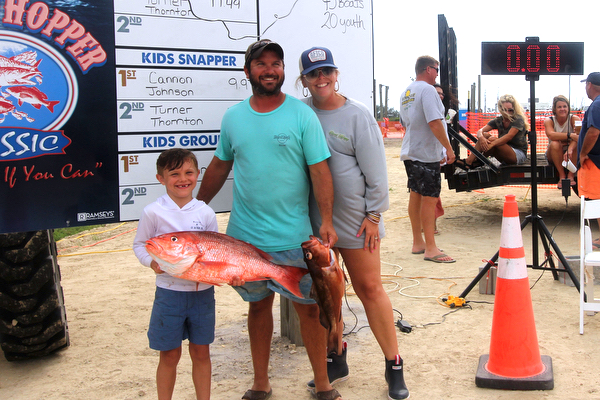 A Gollywhopper Time

This is one tournament you won't want to miss. Registration is open now until the event date, June 18. The first fishing tournament for the year, the Mexico Beach Gollywhopper Classic, kicks off a great fishing season and the start of red snapper season. This year's tournament will take place June 17 and 18 at the Mexico Beach Boat Ramp Park. The Captain's Party will be held Friday, June 17, at 5:00 p.m. At the party, you can register for the tournament, enter to win raffle prizes, enjoy live music, and eat some good food. The fishing categories are Red Snapper, Grouper, and King Mackerel, with a bonus target weight entry division and a youth entry division. Weigh-in will be on Saturday, June 18, from 3:30 p.m. to 5:30 p.m. Come see the amazing fish caught and hear some Gollywhopper tales!
And the Winner Is. . .
Up for grabs last month was a gift certificate to Mexico Beach Sweets, and the lucky winner is Denise Mandi from Port St. Joe, Florida. Congrats, Denise!


JUNE GIVEAWAY
This month's giveaway is a gift certificate and T-shirt combo from Bird Dogs. This local family-owned and -operated restaurant serves up the area's best hot dogs and gourmet sodas. All food and drinks are made fresh and served with a smile. To place your name in the hat, send an email to Kathy at kathy@mexicobeach.com.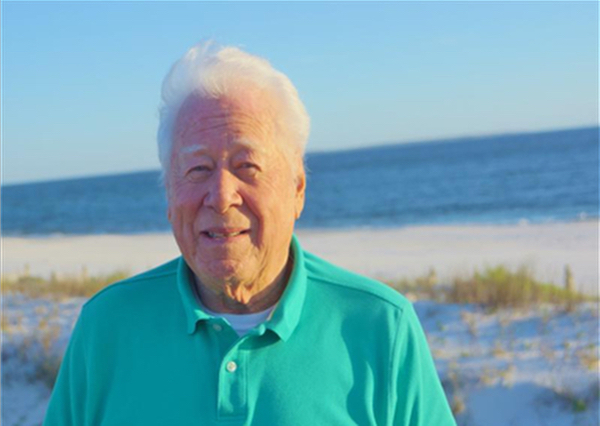 Meet Mexico Beach

This month, we would like to introduce you to our very good friend, resident, and senior citizen, Ralph. After a career with National Envelope Company and 35 years in the Army National Guard, Ralph moved with his lovely wife, Gloria, to Mexico Beach to begin his new career in retirement. In September, they will be celebrating their 40th wedding anniversary. But, on May 14, Ralph celebrated his 90th birthday with a backyard party complete with good friends and a barbershop quartet for entertainment. Happy Birthday, Ralph!
For more information on weddings or vow renewal ceremonies on the beach, visit mexicobeach.com.
Charles and Lisa
We would also like to introduce you to Charles and Lisa, who came from Dothan, Alabama, to beautiful Mexico Beach to say their "I Dos." It was a sweet wedding, and we're honored they chose our wonderful location. Congratulations, Charles and Lisa!
Mexico Beach Annual Photography Contest
Now through July 31
Get ready to print those pictures and try your hand at our annual photography contest. The Mexico Beach 22nd Annual Photography Contest will take submissions between April 1 and July 31. We welcome all photographs taken in Mexico Beach, past or present. All photographs will be submitted for judging after July 31, and the winners will be contacted and announced on the Mexico Beach website, social media pages, and in the e-newsletter. Winning photographs will be displayed in the Mexico Beach Welcome Center after judging. We hope you will capture Mexico Beach through your "eyes" and enter our photography contest.
Farmers & Craft Market
June 11 & 25
Come spend the morning at the Mexico Beach Farmers & Craft Market at Parker Park, located at 2500 Highway 98. Vendors will include produce, fresh jellies, one-of-a-kind crafts, and much more. Market hours will be 8:00 a.m. until 12:00 p.m. Each market is sure to feature new vendors, so be sure to come every time. If you'd like to be a vendor, sign up now! Space is limited, so don't wait. This market is put on by the Special Events for Mexico Beach, Inc. All proceeds go toward the July 4th Best Blast on the Beach Fireworks Show.
Mexico Beach Mobile Library
June 16
Come check out a book—or two or three—from the Mobile Library! The Mobile Library will be set up at the Mexico Beach Welcome Center, located at 102 Canal Parkway, from 12:30 p.m. to 3:00 p.m. and is open to the public. The Mobile Library will be stocked with books for all ages (print and audiobooks). Library patrons will be able to register for a library card and borrow and return items. So, if you don't have a library card, don't let that stop you. With a nice selection of books, there will be something for everyone to read.
Best Blast on the Beach
July 4
Come celebrate the 4th of July in Mexico Beach with our Best Blast on the Beach! This will be a fun-filled day with events for the entire family. Start the day off by participating in our annual Sandy Shoes 5K Fun Run, then enjoy the downtime until our Best Blast on the Beach Fireworks Show. We are sure everyone will be amazed by our grand fireworks display. This show can be seen throughout the entire city. Launching at 8:30 p.m., it's a must-see for you and the whole family.
Sandy Shoes 5k Fun Run
July 4
The Mexico Beach Sandy Shoes 5K Fun Run is a great way to enjoy the outdoors and prepare for a great 4th of July. All ages are invited to participate in this family-fun race on a very easy course that will allow any stage of runner to enjoy. Runners will start and end at the same location, with water stations along the road to route them through the course. Spirited volunteers and onlookers will be cheering on each racer as they cross the finish line. This is a non-chipped, non-official timed race. All runners will be responsible for capturing his or their own time. A race clock will be provided, displayed, and visible to all runners as they cross the finish line. The race will start at 7:00 a.m. on July 4 at Under the Palms Park. Registration fee includes race bib and T-shirt. Don't wait, as registration will close on June 24 and there will be no day-of-race registration.
A friendly reminder:

Mexico Beach is a Leave No Trace community, and we appreciate your assistance in helping us keep our beaches clean. Any items left on the beach unattended from 7 p.m. to 7 a.m. will be removed and disposed of by the City of Mexico Beach. Items include, but are not limited to, tents and tent frames, beach chairs, coolers, umbrellas, toys, etc. Also, please fill in any holes before you leave and please remain off the sand dunes and out of the sea oats to ensure their continued nourishment. There are boardwalks and walking paths that can be accessed to reach the beach. Your assistance with these requests will keep our beaches beautiful and pristine. For full details on this ordinance or questions, click here or contact City Hall at (850) 648-5700.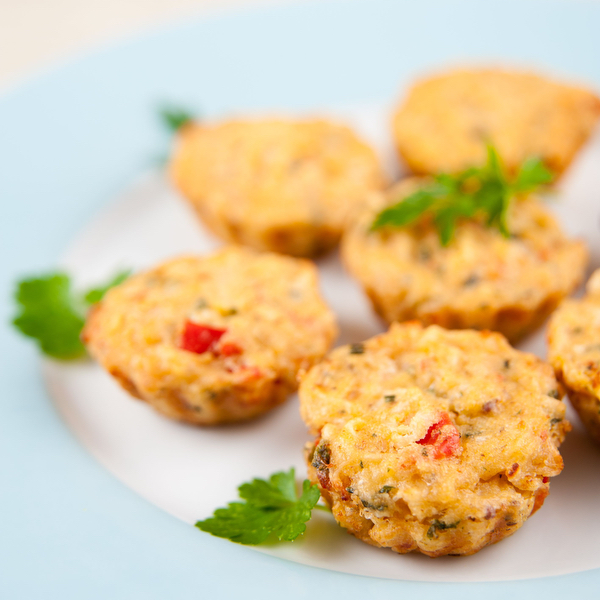 Muffin-Tin Crab Cakes
This recipe is great for potluck dinners!
We publish it with the compliments of the Mexico Beach Artificial Reef Association Seafood Cookbook (www.mbara.org).

INGREDIENTS

1 lb. crabmeat
2 cups fresh breadcrumbs
1/2 red bell pepper, minced
3 scallions, sliced
1/4 cup mayonnaise
2 large eggs
1 large egg white
10 dashes hot sauce
1/2 tsp. celery salt
1/2 tsp. freshly ground pepper
6 lemon wedges, for garnish


Preparation:

Preheat the oven to 450 degrees. Generously coat a 12-cup nonstick muffin pan with cooking spray. Mix the crab, breadcrumbs, bell pepper, scallions, mayonnaise, eggs, egg white, hot sauce, celery salt, and pepper in a large bowl until well-combined. Divide the mixture evenly among the muffin cups. Bake until crispy and cooked through, about 20 to 25 minutes. Serve with a lemon wedge and enjoy!
Retirement

The joys and perks can be fun.

"The best thing about retirement is not having to wear pants."
—Mark Hewer

"My retirement plan is to get thrown into a minimum-security prison in Hawaii."
—Julius Sharpe

"The trouble with retirement is that you never get a day off."
—Abe Lemons

When is a retiree's bedtime? About 30 minutes after they fall asleep on the couch.

He who laughs last at the boss's jokes probably isn't far from retirement.

Why do retirees smile all the time? Because they can't hear a word you're saying.

Just when the wife thinks they got the kids out of the house, the husband decides to retire.

Retirement is when you stop lying about your age and start lying around the house.

The money's no better in retirement, but the hours are.

Retirement—the world's longest coffee break.




In Mint Condition

This saying's meaning refers to something that is new and almost perfect or something used but in great shape. It's a common phrase among stamp and coin collectors. By 1929, people started using it to describe other objects in excellent condition. Although mint is a plant, it's also a verb meaning to create something out of metal. The basis is the Latin word monetarius, which means banker or money handler. Its verb usage started in coin factories, describing each coin as just "coming from the mint." Over the years, its meaning expanded from just coins to anything that might be for sale that was in excellent condition. The first known usage of the term was in 1895 in the Scottish newspaper The Evening Telegraph.