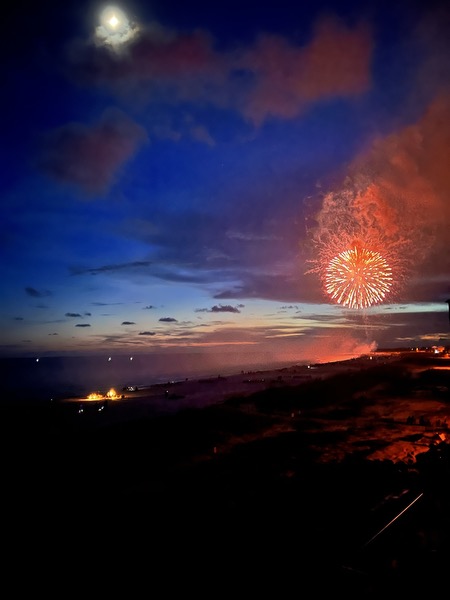 Happy Birthday, America!

We celebrated our nation's birthday again in a patriotic and memorable way. Our July 4th started with the annual Sandy Shoes 5K fun run, and there were over 250 participants who came out and enjoyed the event. After that, families and friends enjoyed the sun and breeze on the beach, boat, or balcony. We brought the day to a close with our spectacular fireworks display. Overall, it was an appropriate way to celebrate America's birthday with a credit and a "thank you" to all the volunteers who made this day possible. A special thank you to the Special Events for Mexico Beach, Inc., which puts on our Best Blast on the Beach race and fireworks show.
And the Winner Is. . .
Up for grabs last month was a gift certificate and T-shirt combo from Bird Dogs, and the lucky winner is Ralph Jurkoshek from Middleburg Heights, Ohio. Congrats, Ralph!


JULY GIVEAWAY
This month's giveaway is a gift certificate to Caribbean Coffee & Café, which offers fresh coffee, delicious pastries, specialty sandwiches, and more. Caribbean Coffee & Café is the best stop for breakfast at the beach. To place your name in the hat, send an email to Kathy at kathy@mexicobeach.com.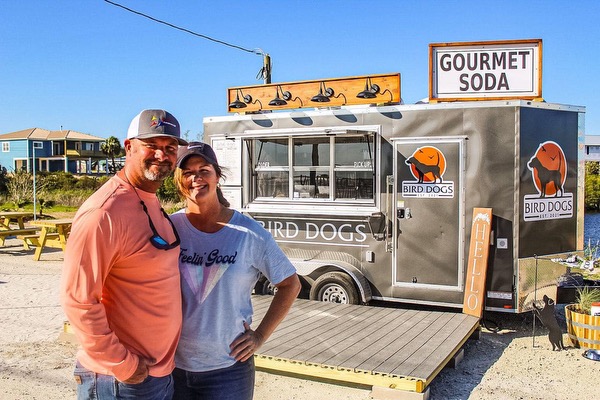 Meet Mexico Beach

Hot diggity dog! This month, we're proud to introduce you to Aaron and Jennifer Kincaid, owners of Bird Dogs. Located across from Sunset Park on Highway 98, they offer a variety of delicious hot dogs, gourmet sodas, and shaved ice. They are open during lunch hours from 11:00 a.m. to 3:00 p.m., Thursday through Saturday. Be sure to stop by, enjoy some lunch, and say hello. Fido is welcome, too!
For more information on weddings or vow renewal ceremonies on the beach, visit mexicobeach.com.
Vas and Rebecca
This month we would like to introduce you to Vas and Rebecca, who came to our beaches from Georgia. It was an early morning wedding with romance and love felt all around. Congratulations, Vas and Rebecca!
Mexico Beach Annual Photography Contest
Now through July 31
Get ready to print those pictures and try your hand at our annual photography contest. The Mexico Beach 22nd Annual Photography Contest will take submissions through July 31. We welcome all photographs taken in Mexico Beach, past or present. All photographs will be submitted for judging after July 31, and the winners will be contacted and announced on the Mexico Beach website, social media pages, and in the e-newsletter. We will display the winning photographs in the Mexico Beach Welcome Center after judging. We hope you will capture Mexico Beach through your "eyes" and enter our photography contest.
Farmers & Craft Market
July 9 & 23
Spend the morning at the Mexico Beach Farmers & Craft Market at Parker Park, located at 2500 Highway 98. Vendors will include produce, fresh jellies, one-of-a-kind crafts, and much more. Market hours will be 8:00 a.m. until 12:00 p.m. Each market is sure to have new vendors, so be sure to come every time. If you'd like to be a vendor, sign up now, as space is limited—so don't wait. This market is put on by the Special Events for Mexico Beach, Inc. All proceeds go toward the July 4th Best Blast on the Beach Fireworks Show.
Mexico Beach Mobile Library
July 14
Come check out a book—or two or three—from the Mobile Library! The Mobile Library will be set up at the Mexico Beach Welcome Center, located at 102 Canal Parkway, from 12:30 p.m. to 3:00 p.m. and is open to the public. The Mobile Library will be stocked with books for all ages (print and audiobooks). Mobile Library patrons can register for a library card and borrow and return items. So, if you don't have a library card, don't let that stop you. With a nice selection of books, there will be something for everyone to read.
MBARA Kingfish Tournament
July 30
New dates, new rules, same great tournament! The Mexico Beach Artificial Reef Association is proud to announce the date for the 26th Annual MBARA Kingfish Tournament. On Saturday, July 30, anglers will hit the open waters of the Gulf of Mexico in search of the prize kingfish. This year's Captain's Party and Weigh-In will take place at the Mexico Beach Boat Ramp. This charitable fundraiser assists in developing and deploying artificial reefs in the Gulf of Mexico. All proceeds will be used to create more wonderful marine habitats and improve the fishery for everyone to enjoy. Make plans to enter today!
A friendly reminder:

Mexico Beach is a Leave No Trace community, and we appreciate your assistance in helping us keep our beaches clean. Any items left on the beach unattended from 7 p.m. to 7 a.m. will be removed and disposed of by the City of Mexico Beach. Items include, but are not limited to, tents and tent frames, beach chairs, coolers, umbrellas, toys, etc. Also, please fill in any holes before you leave and please remain off the sand dunes and out of the sea oats to ensure their continued nourishment. There are boardwalks and walking paths that can be accessed to reach the beach. Your assistance with these requests will keep our beaches beautiful and pristine. For full details on this ordinance or questions, click here or contact City Hall at (850) 648-5700.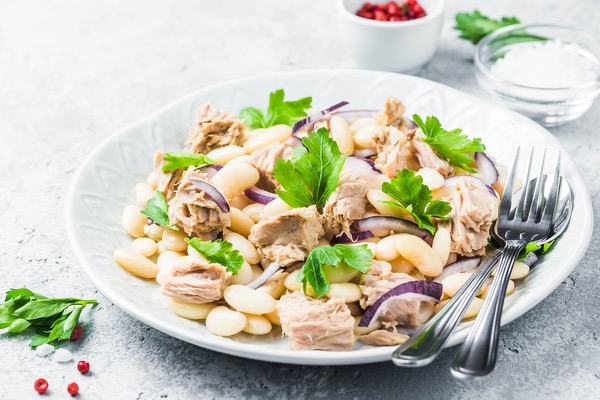 White Bean, Fennel, and Blackfin Tuna Salad
A summer favorite!
We publish it with the compliments of the Mexico Beach Artificial Reef Association Seafood Cookbook (www.mbara.org).

INGREDIENTS

8 oz. Blackfin tuna
6 Tbsp olive oil
Salt and pepper
3 1/2 cups cooked or canned cannellini or other white beans
Zest and juice of 1 lemon
2 cups finely chopped fennel bulb
3 Tbsp minced fennel fronds
1/4 cup minced red onion or scallion


Preparation:

Coat the tuna with olive oil and season with salt and pepper. Sear on a very hot skillet, turning on all sides until the outside has browned and the inside is barely cooked through. Do not overcook. Drain beans in a colander and rinse under cool running water. Transfer to a large, shallow serving bowl. Cut tuna into half-inch sections and mix with beans. In a small bowl, combine olive oil, lemon zest, and lemon juice. Mix the dressing with the beans and tuna. Mix in minced fennel bulb, fronds, and onion. Season well with salt and pepper. Serve at room temperature on a bed of lettuce with freshly baked bread. Enjoy!
B.E.A.C.H. Wisdom

(Best Escape Anyone Can Have)

If you're not barefoot, you're overdressed.

Being on the beach will make you happier than a seagull with a French fry.

Girls just wanna have sun.

I miss being on the "beach calendar" and not knowing what day it is.

Life is better in flip-flops.

Time wasted at the beach is time well spent.

I don't care if I have sand at the bottom of my bag for months.

The beach is cheaper than therapy.

The beach is the only place where salt lowers your blood pressure.

Go to the beach and get your dose of Vitamin Sea.




Put a Sock in It

This phrase of English origin goes back to the early 1900s and generally means to lower noise, stop talking, or be quiet. There is no definitive origin for the phrase, but there are two suggested theories that are interesting. One is that it was of military origin, where soldiers were sleeping in a barracks, and someone was snoring. Socks were readily available, and the call was to "put a sock in it" to stop the snoring. The other, more intriguing suggestion was that the saying was in connection with the development of the gramophone. The early record-playing invention had no volume control, so playing it at a lower volume was achieved by putting a sock in the horn.