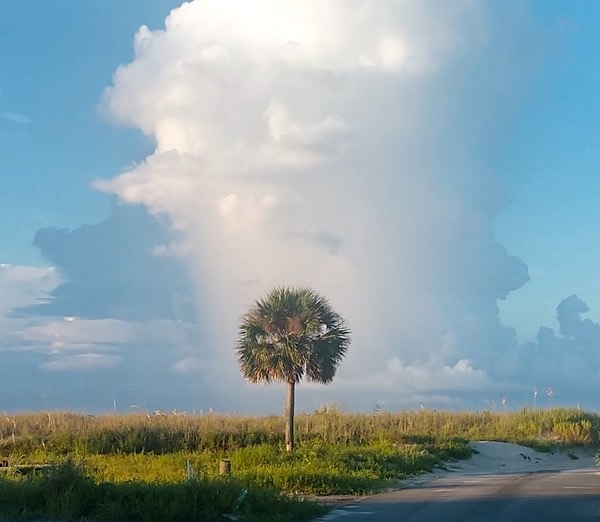 It's Still Great Beach Weather!

Our beaches have been a great spot for everyone's enjoyment this summer, and there is still plenty of time to come to—or back to—Mexico Beach. With numerous pathways and boardwalks allowing all our guests to reach the sandy shoreline, we hope you will be able to make it down to visit us soon. There are a variety of vacation rentals, and our shops and restaurants are putting smiles on all the faces who walk through their doors. The views are amazing, and some of our lodging partners are offering fall specials, so visit our Places to Stay page to find the perfect getaway.
And the Winner Is. . .
Up for grabs last month was a gift prize pack from Vacation Prep Squad, and the lucky winner is Dave Cline from Greenville, Ohio. Congrats, Dave!


SEPTEMBER GIVEAWAY
This month's giveaway is a free two-night stay at Waterside Condo #301 from Forgotten Coast Property Management & Rentals. This giveaway is only valid for two (2) consecutive nights in November or December 2022. This two-bedroom, two-bathroom condo is beautifully decorated and has everything you need for relaxing and enjoying your vacation. Forgotten Coast Property Management & Rentals has been assisting guests in finding their ideal beach getaway for over twenty years. From beachfront homes to beach-view condos with pools, the team at FCPMR can help you book your next unforgettable getaway. To place your name in the hat, send an email to Kathy at kathy@mexicobeach.com.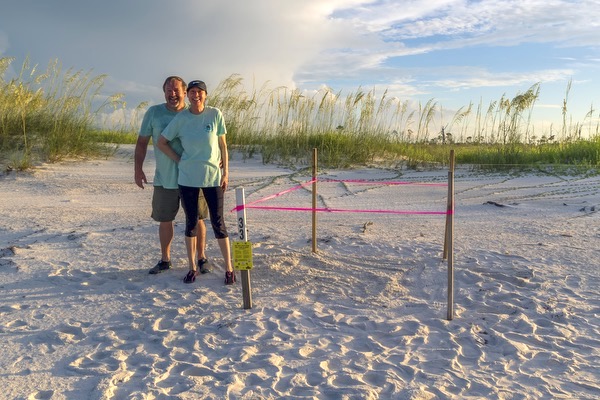 Meet Mexico Beach

This month, we would like to introduce you to an amazing group of volunteers, the Turtle Patrol. Sea turtles make their way here to nest on our sandy shores every year between May and October. A group of dedicated volunteers helps these creatures stay safe while nesting. The Turtle Patrol also strives to ensure the hatchlings also make their journey to the waters of the Gulf. Pictured are Tom and Peggy, Mexico Beach residents and both volunteers, who patrol our beaches for nests and watch over the eggs during the incubation period. The Gulf and East Bay Sea Turtle Patrol so far this year has found 57 nests. A big thank you to everyone involved in the Turtle Patrol!

Photo courtesy of Bill Fauth
Farmers & Craft Market
September 10 & 24
Come spend the morning at the Mexico Beach Farmers & Craft Market at Parker Park, located at 2500 Highway 98. Vendors will include produce, fresh jellies, one-of-a-kind crafts, and much more. Market hours will be from 8:00 a.m. until 12:00 p.m. Each market is sure to feature new vendors, so be sure to come every time. If you'd like to be a vendor, sign up now! Space is limited, so don't wait. This market is put on by Special Events for Mexico Beach, Inc.
Mexico Beach Mobile Library
September 15
Come check out a book—or two or three—from the Mobile Library! The Mobile Library will be set up at Sunset Park, located at 1813 Highway 98, from 12:30 to 3:00 p.m. and is open to the public. The Mobile Library will be stocked with books for all ages (print and audiobooks). Library patrons can register for a library card and borrow and return items, so if you don't have a library card yet, don't let that stop you. With a nice selection of books, there will be something for everyone to read.
Bay Scallop Season
Now to September 24
Ready to explore for scallops? The 2022 season opens August 16 and ends September 24 for scalloping in St. Joseph Bay. This season opening is from the Mexico Beach Canal in Bay County through the westernmost point of St. Vincent Island in Franklin County. The daily limit per person is two (2) gallons of whole bay scallops in shell or one (1) pint of bay scallop meat. The daily limit per vessel is a maximum of 10 gallons of whole bay scallops in shell or a half gallon of bay scallop meat (1/2 gallon=4 pints). To learn more about the requirements and updates from FWC, please click here.
Music in the Park
Thursdays in September
One of our favorite annual traditions is back: September Music in the Park! Join us every Thursday in September from 5:00 to 7:00 p.m. as we showcase live music from some of our local favorites on stage at Parker Park. These events, as always, are free and open to the public, so bring your blankets, low-back chairs, and picnic supplies for a great evening just in time for sunset. This year's lineup is one you won't want to miss. Presented by Mexico Beach Community Development Council.

September 8: Konkrete Soul
September 15: Flabbergasted
September 22: Hunter Wall Band
September 29: Bo Spring Band
A friendly reminder:

Mexico Beach is a Leave No Trace community, and we appreciate your assistance in helping us keep our beaches clean. Any items left on the beach unattended from 7 p.m. to 7 a.m. will be removed and disposed of by the City of Mexico Beach. Items include, but are not limited to, tents and tent frames, beach chairs, coolers, umbrellas, toys, etc. Also, please fill in any holes before you leave and please remain off the sand dunes and out of the sea oats to ensure their continued nourishment. There are boardwalks and walking paths that can be accessed to reach the beach. Your assistance with these requests will keep our beaches beautiful and pristine. For full details on this ordinance or questions, click here or contact City Hall at (850) 648-5700.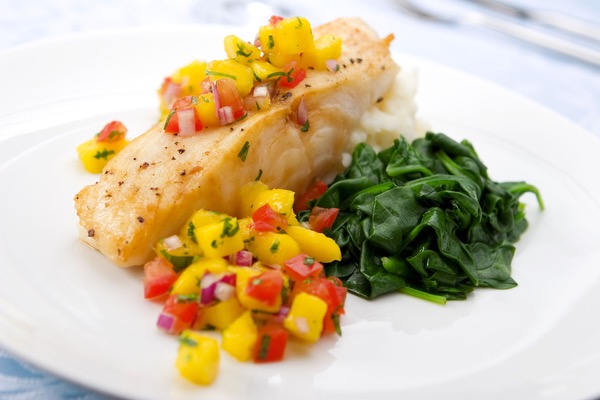 Tupelo Honey-Spiced Amberjack with Mango Salsa
A hit with everyone!
We publish it with the compliments of the Mexico Beach Artificial Reef Association Seafood Cookbook (www.mbara.org).

INGREDIENTS

12 (4–5 ounce) amberjack fillets
2 1/2 Tbsp vegetable oil
10 Tbsp Tupelo honey
10 Tbsp fresh lime juice
3 ripe mangos, peeled and diced
5 tsp. fresh grated lime peel
3 ripe kiwis, peeled
3 small onions, peeled and quartered
5 fresh jalapeno peppers, halved and seeded
5 tsp. paprika
5 tsp. olive oil
4 tsp. garlic salt
1 1/4 tsp cinnamon
1 1/4 tsp black pepper
1 1/4 tsp. ground allspice
Mesquite charcoal
Cooked rice

DIRECTIONS

In a small bowl, combine Tupelo honey, lime juice, and lime peel. Whisk until well blended. Remove 1/2 cup of the mixture, place it in a food processor container, and set aside. Add mango to the honey-lime mixture remaining in the bowl and toss to coat. Store in the refrigerator.

Add onion, jalapeno, paprika, olive oil, vegetable oil, garlic salt, cinnamon, pepper, and allspice to the food processor with the honey-lime mixture. Process until very finely chopped, scraping down sides when necessary. Spread the mixture evenly over both sides of the Amberjack fillets. Arrange the fish on a grill with Mesquite charcoal. Grill until cooked through, basting with the blender mixture. Remove fish and place on a serving platter; top with reserved diced mango from the refrigerator, then serve with rice and enjoy!
Humor & Wisdom

Sometimes humor and wisdom form a dedicated, inspirational, and solid team. Here are a few instances to contemplate.

High heels were invented by a woman who had been kissed on the forehead.
—Christopher Morley

If you want your children to listen, try talking softly to someone else.
—Ann Landers

We never really grow up; we only learn how to act in public.
—Bryan White

By the time a man realizes that his father was right, he has a son who thinks he's wrong.
—Charles Wadsworth

Inside me there's a thin person struggling to get out, but I can usually sedate him with four or five cupcakes.
—Bob Thaves

Men marry women with the hope they will never change. Women marry men with the hope they will change. Invariably they are both disappointed.
—Albert Einstein

A study in the Washington Post says that women have better verbal skills than men. I just want to say to the author of that study, "Duh."
—Conan O'Brien

As a child, my family's menu consisted of two choices: take it or leave it.
—Buddy Hackett

He who laughs last didn't get the joke.
—Charles de Gaulle


No Strings Attached

This well-known phrase means doing something or getting something free and clear, without anything expected in return. The term is from the eighteenth century and was common in the clothing and fabric business. When a fabric merchant received bolts of cloth, they inspected the products. Flaws in the fabric were annotated with a small piece of string attached to the bottom of the bolt. So, when a tailor or dressmaker was making an expensive garment that required flawless material, they would specify that they wanted fabric with "no strings attached." The phrase evolved from there to mean anything without a downside or unpleasant terms to accept.