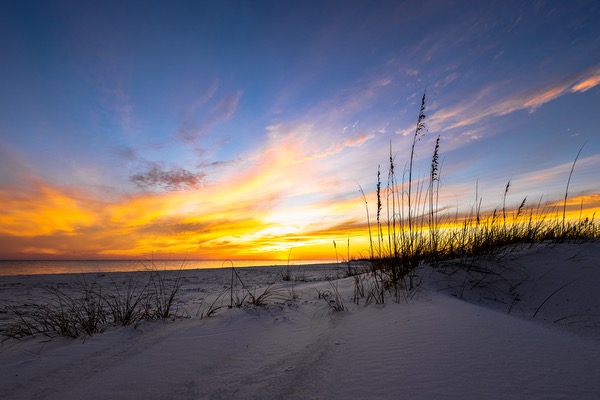 Sending Love to South Florida

We wish to take a moment to pause and offer our deepest condolences and empathy to our fellow Floridians that were impacted by Hurricane Ian. These are challenging times, and we understand the hardships being experienced today. We know that our neighbors in Southwest Florida will be able to overcome this, and we offer our love, prayers, and support during this difficult time.
And the Winner Is. . .
Up for grabs last month was a free two-night stay at Waterside Condo #301 from Forgotten Coast Property Management & Rentals, and the lucky winner is David Vest from Parker, Florida. Congrats, David!


OCTOBER GIVEAWAY
This month's giveaway is a geckobrands waterproof drawstring backpack from Cathey's ACE Hardware. Since 1974, Cathey's ACE Hardware has been servicing our beautiful beach community with all your hardware needs and more. From hammers and nails to beach and grilling supplies, they've got you covered. To place your name in the hat, send an email to Kathy at kathy@mexicobeach.com.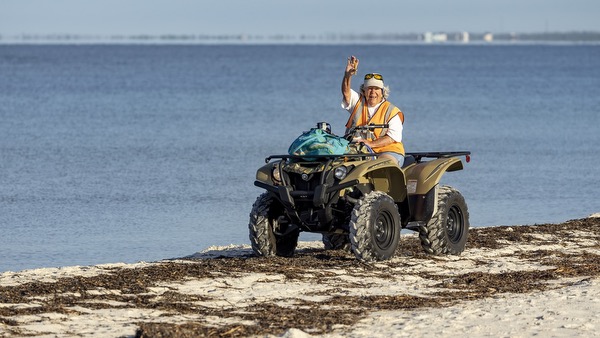 Meet Mexico Beach

We're delighted to introduce you to Ms. Barbara Eells, who has been living in our area since the 1990s and is very active in protecting our local native creatures. Barbara is professionally credentialed by the State of Florida with a marine turtle permit. She is most often seen with her group of over 25 volunteers locating and identifying turtle nests. So next time you see a vehicle on the beach with a "turtle patrol" sign, be sure to wave to Barbara or one of her volunteers.

Photo courtesy of Bill Fauth
For more information on weddings or vow renewal ceremonies on the beach, visit mexicobeach.com.
Robert and Geneva
This month we celebrate the wedding of Robert and Geneva. They came from Texas to say their marriage vows on our beautiful beach and received a pleasant surprise when Mayor Al Cathey stopped by to offer his best wishes to the happy couple. Congratulations, Robert and Geneva!
Farmers & Craft Market
October 8 & 22
Come spend the morning at the Mexico Beach Farmers & Craft Market at Parker Park, located at 2500 Highway 98. Vendors will include produce, fresh jellies, one-of-a-kind crafts, and much more. Market hours will be 8:00 a.m. until 12:00 p.m. Each market is sure to feature new vendors, so be sure to come every time. If you'd like to be a vendor, sign up now. Space is limited, so don't wait! This market is put on by the Special Events for Mexico Beach, Inc.
Mexico Beach Mobile Library
October 13
Come check out a book—or two or three—from the Mobile Library! The Mobile Library will be set up at Sunset Park, located at 1813 Highway 98, from 12:30 to 3:00 p.m. and is open to the public. The Mobile Library will be stocked with books for all ages (print and audiobooks). Library patrons can register for a library card and borrow and return items, so if you don't have a library card yet, don't let that stop you. With a nice selection of books, there will be something for everyone to read.
Turkey Trot 5K Fun Run
November 24
Come kick off Thanksgiving Day with a 5K Fun Run. The Mexico Beach Turkey Trot 5K Fun Run is a great way to prepare for the Thanksgiving feast you'll be enjoying later. All ages are invited to participate in this family-friendly, fun race. The very easy course will allow any stage of runner or walker to enjoy. Participants will start and end at the same location. Spirited volunteers and onlookers will be cheering on each participant as they cross the finish line. Registration fee includes a race bib and a commemorative race T-shirt. Registration is now open and will close on Friday, November 4. Don't wait, as there will be no day-of-race registration.
A friendly reminder:

Mexico Beach is a Leave No Trace community, and we appreciate your assistance in helping us keep our beaches clean. Any items left on the beach unattended from 7 p.m. to 7 a.m. will be removed and disposed of by the City of Mexico Beach. Items include, but are not limited to, tents and tent frames, beach chairs, coolers, umbrellas, toys, etc. Also, please fill in any holes before you leave and please remain off the sand dunes and out of the sea oats to ensure their continued nourishment. There are boardwalks and walking paths that can be accessed to reach the beach. Your assistance with these requests will keep our beaches beautiful and pristine. For full details on this ordinance or questions, click here or contact City Hall at (850) 648-5700.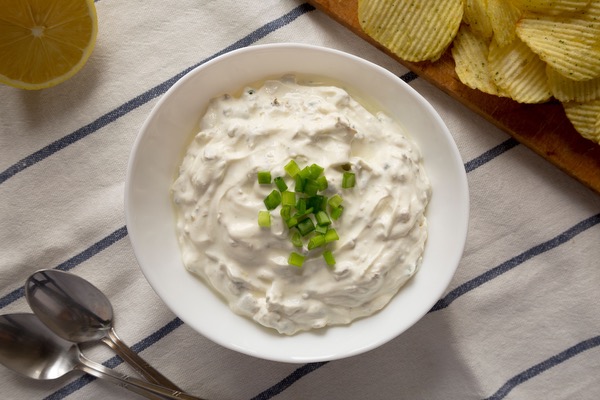 Clam Dip
With the cool weather around the corner, this is an excellent appetizer for those fall nights or football games.
We publish it with the compliments of the Mexico Beach Artificial Reef Association Seafood Cookbook (www.mbara.org).

INGREDIENTS

8 oz. cream cheese
6.5 oz. can chopped clams
1 1/2 tsp. Worcestershire sauce
2 tsp. lemon juice
1/4 tsp. garlic salt
Chips, Fritos, or crackers of your choice

DIRECTIONS

Let the cream cheese soften at room temperature or carefully soften it in the microwave (without cooking it). Drain the clams, but retain the juice in a small bowl. Add Worcestershire and lemon juice to the cream cheese and stir until blended. Add enough clam juice to make the mixture creamy enough for dipping and stir in, remembering that the dip will stiffen up if you chill it. Add garlic and chopped clams and stir until well mixed. The dip can be served immediately, but it's better if it sits in the fridge overnight. Serve with your favorite dip chips or crackers, and enjoy!
Halloween

Skeletons, witches, and ghosts have a big part in this upcoming holiday. Here are some funny sayings from these leading Halloween players.

SKELETONS

A skeleton's favorite song is "Bad to the Bone."
Skeletons are calm because nothing gets under their skin.
The favorite dish for a skeleton in a restaurant is spare ribs.
A skeleton who goes out in the snow is a numb-skull.
"Nobody" won the skeleton beauty contest.

WITCHES

Spelling was the witch's favorite subject in school.
Witches who live together are "broom-mates."
The witch took a nap because she needed to "rest a spell."
Two witches are a problem because you never know which witch is which.

GHOSTS

A ghost's favorite dessert is "I-scream."
When ghosts go horseback riding, they use "night-mares."
Ghosts go on vacation to Mali-Boo.
Break the News

This expression is often associated with the telling of bad news. Its meaning is to make information known, to inform others of important events, or to disclose information publicly. It is speculated that the term could have originated in the 1500s when people sent messages via a roll of parchment or paper. Opening the message would break the wax seal on the parchment and allow the recipient to read the note, thus "breaking" the news open.