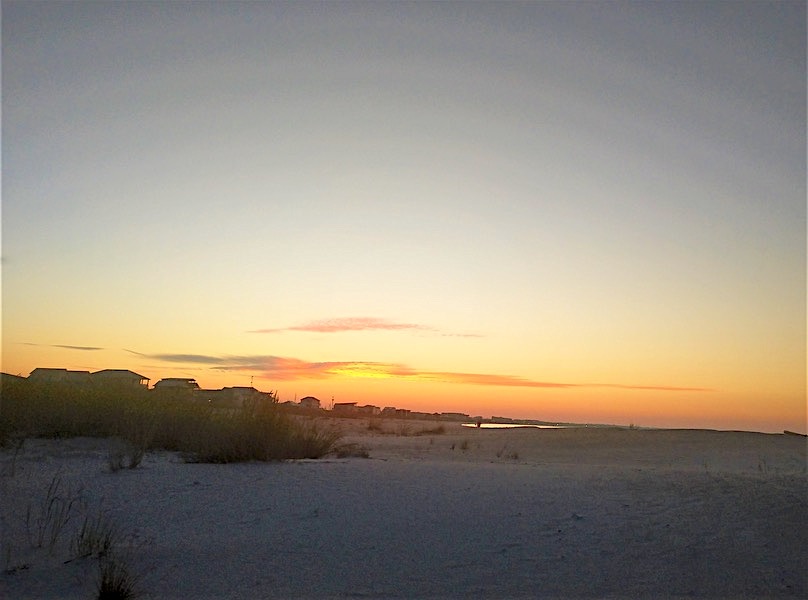 Sunrises

Our sunsets are so beautiful that we sometimes overlook our amazing sunrises. If you're an early bird, you can enjoy the sunrise on our beaches with others who rise before the sun! Looking East, you can gain an entirely new view of not only Mexico Beach but the beautiful skies that we get to enjoy each and every day. It's pretty spectacular, right?
And the Winner Is. . .
Up for grabs last month was a geckobrands waterproof drawstring backpack from Cathey's ACE Hardware, and the lucky winner is Greg Stricklin from Memphis, Tennessee. Congrats, Greg!


NOVEMBER GIVEAWAY
This month's giveaway is a jar of Simmerin' Sauce from Killer Seafood. This sauce is best enjoyed in a bread bowl with shrimp, oysters, scallops, or crabs or smothered over grouper or chicken—either way, you can't go wrong. Killer Seafood has been simmerin' this sauce in their kitchen since 2003. Be sure to "chum and get it" next time you're in Mexico Beach. To place your name in the hat, send an email to Kathy at kathy@mexicobeach.com.

Meet Mexico Beach

This month, we want to introduce you to the Mexico Beach RV Resort. Located at 800 15th Street, this full-service resort offers all hook-ups, Wi-Fi, a pool, laundry facilities, and more. Mexico Beach RV Resort offers a quiet, safe facility and is just half a mile from the beautiful beaches. They can accommodate all sizes of vehicles and tent campers. You also don't have to leave Fido at home, as pets are permitted. So please stop by, say hello, and maybe even reserve your next vacation spot!


Farmers & Craft Market
November 12 & 26
Come spend the morning at the Mexico Beach Farmers & Craft Market at Parker Park, located at 2500 Highway 98. Vendors will include produce, fresh jellies, one-of-a-kind crafts, and much more. Market hours have been adjusted for the fall months and will take place from 9:00 a.m. until 1:00 p.m. Each market is sure to have new vendors, so be sure to come every time. If you'd like to be a vendor, sign up now! Space is limited, so don't wait. This market is put on by Special Events for Mexico Beach, Inc.
Mexico Beach Mobile Library
November 17
Come check out a book—or two or three—from the Mobile Library! The Mobile Library will be set up at Sunset Park, located at 1813 Highway 98, from 12:30 to 3:00 p.m. and is open to the public. The Mobile Library will be stocked with books for all ages (print and audiobooks). Library patrons can register for a library card and borrow and return items, so if you don't have a library card yet, don't let that stop you. With a nice selection of books, there will be something for everyone to read.
Turkey Trot 5K Fun Run
November 24
Come kick off Thanksgiving Day with a 5K Fun Run. The Mexico Beach Turkey Trot 5K Fun Run is a great way to prepare for the Thanksgiving feast you'll enjoy later. All ages are invited to participate in this family-friendly, fun race on a very easy course that will allow any stage of runner or walker to enjoy. Participants will start and end at the same location. Spirited volunteers and onlookers will be cheering on each participant as they cross the finish line. Registration is now closed, but you can still come out and cheer on the runners!
Christmas Tree Lighting
December 4
It's Christmastime at the beach! Mexico Beach will soon be turned into a magical holiday paradise with the help of some dedicated elves. The annual Christmas Tree Lighting Ceremony will take place on Sunday, December 4, at 6:00 p.m. at Parker Park. The festivities will begin with a warm holiday welcome, music performances, and the annual golf cart parade. Then the mayor will introduce this year's tree lighters, who will light our tree. After the lighting of the tree, the wait will be on for that special someone to make his grand appearance—Santa!
A friendly reminder:

Mexico Beach is a Leave No Trace community, and we appreciate your assistance in helping us keep our beaches clean. Any items left on the beach unattended from 7 p.m. to 7 a.m. will be removed and disposed of by the City of Mexico Beach. Items include, but are not limited to, tents and tent frames, beach chairs, coolers, umbrellas, toys, etc. Also, please fill in any holes before you leave and please remain off the sand dunes and out of the sea oats to ensure their continued nourishment. There are boardwalks and walking paths that can be accessed to reach the beach. Your assistance with these requests will keep our beaches beautiful and pristine. For full details on this ordinance or questions, click here or contact City Hall at (850) 648-5700.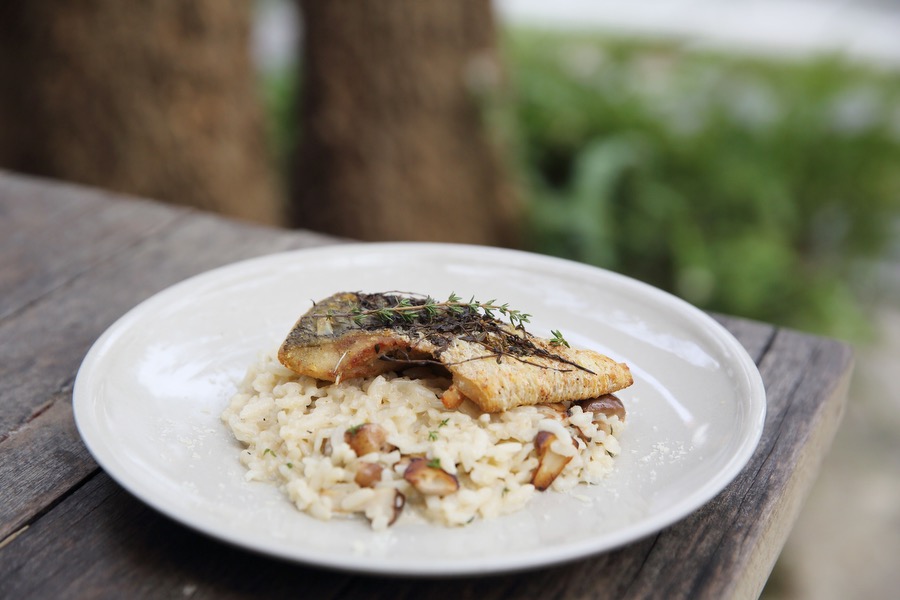 Red Snapper with Mushroom Sauce and Rice
With the cool weather around the corner, this is a great dinner to enjoy with family.
We publish it with the compliments of the Mexico Beach Artificial Reef Association Seafood Cookbook (www.mbara.org).

INGREDIENTS

FOR THE SNAPPER:
Brown rice, cooked
Snapper fillets
Olive oil
Italian breadcrumbs
Mushroom Sauce (See Below)

FOR THE MUSHROOM SAUCE:
1 cup chicken broth
½ cup finely chopped mushrooms
2 Tbsp butter
4 Tbsp heavy cream


DIRECTIONS

Preheat the oven to 425 degrees. To make the Mushroom Sauce, place all ingredients in a saucepan. Heat the sauce over medium heat, stirring frequently, until reduced by half. Reduce to a simmer while you prepare the snapper.

Roll the snapper fillets in olive oil and then in the Italian breadcrumbs until well coated. Bake at 425 degrees for 20 minutes. (You can cook the rice in the meantime if it's not already cooked.) Take out and place the fish on a bed of rice. Spoon the Mushroom Sauce on top of the fish, serve, and enjoy!
What about cooking?

Here are some flavorful thoughts when it comes to the kitchen.

STRESSED spelled backward is DESSERTS.

My cooking is so fabulous that even the smoke alarm cheers me on.

My mom's favorite thing to make is reservations.

No matter what happens in the kitchen, never apologize.

I came, I saw, I decided to order takeout!

A balanced diet is a cookie in each hand.

I accidentally went to the grocery store on an empty stomach, and I'm now the proud owner of aisle number five.

Calories don't count on the weekend.

The perfect food would taste as good as fresh popcorn smells.

Never trust a skinny cook.

Complaints to the cook can be hazardous to your health.
Wet Behind the Ears

Describing someone as "wet behind the ears" means they are inexperienced or lack expertise. The origin of this phrase goes back to farming life and the birthing process, primarily of cows. When a calf is born, it's covered with birthing fluids. As it dries out, the other body parts typically dry faster than the patch behind the ears. The phrase became synonymous with someone being new at something or a rookie in their field.