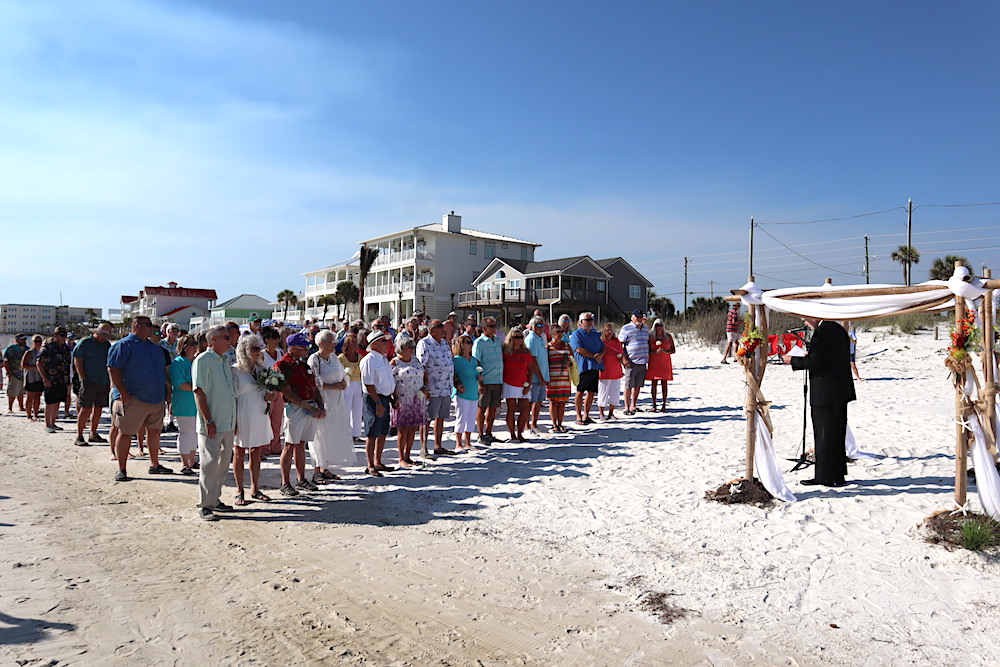 Love Is in the Air—and on the Beach!

This past month, we were fortunate to have the return of our Unforgettable Vow Renewal Ceremony. In its fifth year, the event celebrated love and marriage on our beautiful beaches. This year we had fifty couples reaffirm their marriage vows! With the sparkling beach, pristine waters, and blue skies as their backdrop, each pair paraded down to the beach from Sunset Park. Complementing music led the procession, and couples stood before the tuxedo-clad emcee, where they all reaffirmed their vows and love for one another. After the ceremony, all were welcomed to a cupcake and champagne reception at the Sunset Park Pavilion. Pictures are available on our website for viewing. This event will return next year, and we hope all married couples can join us.
And the Winner Is. . .
Up for grabs last month was a coffee mug from Caribbean Coffee and Café, and the lucky winner is Betty McCurllough. Congrats, Betty!


MAY GIVEAWAY
This month's giveaway is a beach canvas bag and a 20-ounce beverage tumbler from Bracewell's Flooring & Fencing. Family-owned and operated, Bracewell's Flooring & Fencing offers and installs a full line of flooring and fencing products. With over fifty years of experience, they are committed to helping make your home improvement project great. The company will soon reopen in a new location in Mexico Beach! To place your name in the hat, send an email to Kathy at kathy@mexicobeach.com.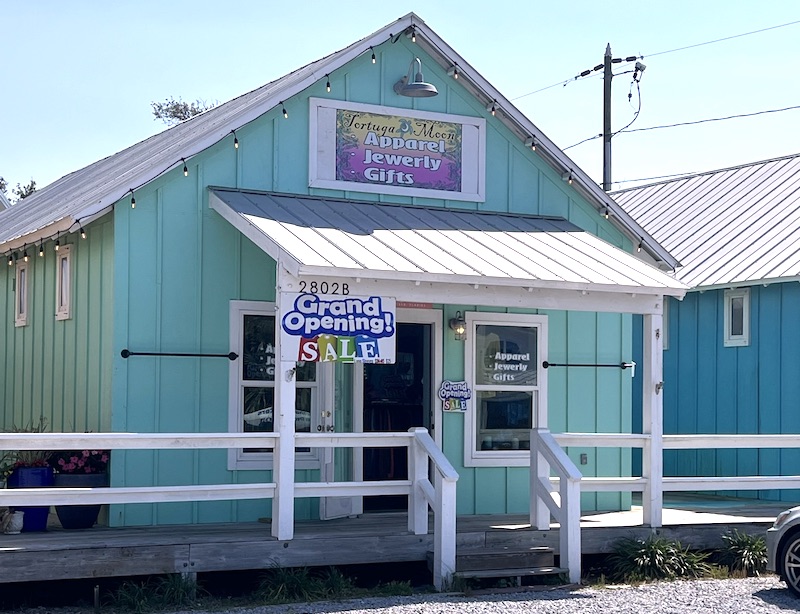 Meet Mexico Beach

This month, we're delighted to introduce you to a new shop at the beach, Tortuga Moon. Now open in the colorful shops between 28th and 29th Street on Highway 98, this beachwear shop has something for everyone. They offer a large selection of shirts, hoodies, pullovers, and other apparel in a variety of colors, as well as jewelry and gifts for special occasions. They are open six days a week (closed Sunday) from 9:00 a.m. to 8:00 p.m. Be sure to stop by, say hello, and support our newest shop in town!


This month we are celebrating two weddings! For more information on weddings or vow renewal ceremonies on the beach, visit mexicobeach.com.
Katlin & Wes
First, we are so happy to introduce you to Wes and Katlin, who came from Kentucky to have their wedding on our beach. It was a romantic ceremony with gorgeous weather. Congratulations, Wes and Katlin!
Erika & Justin
Next, we'd like to introduce you to Justin and Erika, who also came from Kentucky. They exchanged their vows on our beautiful beach, and the ceremony was beautiful. Congratulations, Justin and Erika!
Farmers & Craft Market
May 13 & 27
Come spend the morning at the Mexico Beach Farmers & Craft Market at Parker Park, located at 2500 Highway 98. Vendors will include produce, fresh jellies, one-of-a-kind crafts, and much more. Market hours have adjusted for the fall/winter months and will take place from 9:00 a.m. until 1:00 p.m. Each market is sure to feature new vendors, so be sure to come every time. If you'd like to be a vendor, sign up now. Space is limited, so don't wait! This market is put on by the Special Events for Mexico Beach, Inc.
Annual Photography Contest
Now–July 31
Get ready to print those pictures and try your hand at our annual photography contest. The Mexico Beach 23rd Annual Photography Contest will open for submission on April 1 and run until July 31. We welcome all photographs taken in Mexico Beach, past or present. All photographs will be submitted for judging after July 31, and the winners will be contacted and announced on the Mexico Beach website, social media pages, and in the e-newsletter. Winning photographs will be displayed in the Mexico Beach Welcome Center after judging. We hope you will capture Mexico Beach through your "eyes" and enter our photography contest.
Gollywhopper Classic
June 23 & 24
The first fishing tournament of the year, the annual Gollywhopper Classic, is set for June 24! The Captain's Party and Weigh-In will occur at the Mexico Beach Boat Ramp Park. This year's categories are Red Snapper, Grouper, and King Mackerel. There will also be an optional youth division (14 and under), optional target weight division, and optional MBARA aggregated Kingfish division. More information on the MBARA aggregated Kingfish division will be posted once finalized. Get ready to fuel up, head out, and get a chance to win some great cash prizes. The Captain's Party will be held on Friday, June 23, at 5:00 p.m. with live music, food, and much more. Weigh-In will take place on Saturday from 3:30 to 5:30 p.m. This is one tournament you don't want to miss!
Best Blast on the Beach
July 4
Celebrate the 4th of July in Mexico Beach with our Best Blast on the Beach! This is a fun-filled day with events for the entire family. Start the day off by participating in our annual Sandy Shoes 5K Fun Run. Then enjoy the downtime until our Best Blast on the Beach Fireworks Show. We are sure everyone will be amazed by our grand fireworks display. This show can be seen throughout the entire city, and it will be one to remember. Launching at 8:30 p.m., the Best Blast on the Beach fireworks show will be a must-see for you and the entire family. Sandy Shoes Race information is coming soon, so please check back.
A friendly reminder:

Mexico Beach is a Leave No Trace community, and we appreciate your assistance in helping us keep our beaches clean. Any items left on the beach unattended from 7 p.m. to 7 a.m. will be removed and disposed of by the City of Mexico Beach. Items include, but are not limited to, tents and tent frames, beach chairs, coolers, umbrellas, toys, etc. Also, please fill in any holes before you leave and please remain off the sand dunes and out of the sea oats to ensure their continued nourishment. There are boardwalks and walking paths that can be accessed to reach the beach. Your assistance with these requests will keep our beaches beautiful and pristine. For full details on this ordinance or questions, click here or contact City Hall at (850) 648-5700.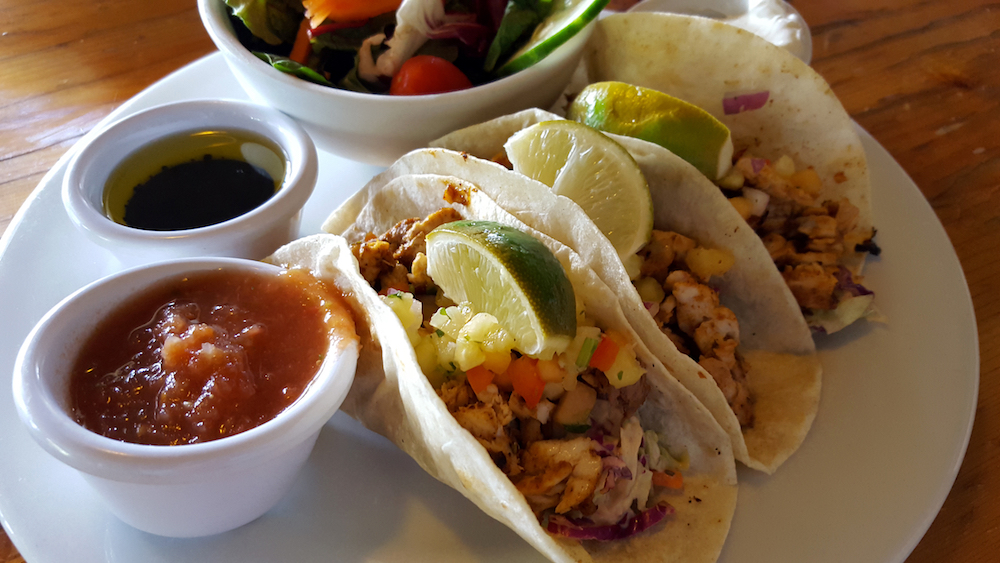 Charred Fish Tacos
This is a great dish that can be enjoyed with family and friends.
We publish it with the compliments of the Mexico Beach Artificial Reef Association Seafood Cookbook (www.mbara.org).

INGREDIENTS

1 lb mackerel, yellowfin tuna fillet, or bonito, cut into 2x4x1-inch strips
2 Tbsp freshly squeezed lime juice, plus more if necessary
1/4 cup olive oil, plus more for oiling the grill
2 Tbsp chipotle dry rub
2 Tbsp radish, diced
2 Tbsp green onion, thinly sliced
Salsa
8 small tortillas, heated



FOR THE CHIPOTLE DRY RUB

2 Tbsp brown sugar
2 tsp ground dried chipotle pepper
1 Tbsp paprika
1 Tbsp dry mustard powder
1 Tbsp ground cumin
1 Tbsp salt


DIRECTIONS

For the dry rub: Mix all ingredients evenly in a bowl or jar.

For the fish: In a medium-sized bowl, toss fish with lime juice, 1/4 cup olive oil, and chipotle rub. Cover and refrigerate for about 1 hour to let marinate. Heat and oil the grill. Grill fish over a hot fire until lightly charred and medium-rare (should be pink in the middle), for about 3 minutes. In a warm bowl, so it does not cool too much, shred the fish. Taste for seasoning and sprinkle with more chipotle rub and lime juice if needed. Top with radish, green onions, and salsa, and serve in warm tortillas. Enjoy!
Words of Wisdom
Here are some for you this May:
Don't mistake temptation for opportunity.

He who laughs last is laughing at you.

He who laughs at himself never runs out of things to laugh at.

A fanatic is one who can't change his mind and won't change the subject.

If you look back, you'll soon be going that way.

He who throws dirt is losing ground.

The world may be your oyster, but it doesn't mean you'll get a pearl.

The road to riches is paved with homework.

Change is inevitable—except from vending machines.

Hard work pays off in the future; laziness pays off now.

Remember, you think it's a secret, but "they" know.
Set the Bar (High or Low)

This saying means to establish a standard for quality, competence, or level of achievement. The origin of this phrase seems to go back to the 1950s in the sport of pole vaulting. New poles made from composite, instead of bamboo or aluminum, were introduced then, which allowed the bar being vaulted over to be higher. Thus, they set the bar.