Mexico Beach Wildlife Field Guide
Mexico Beach, Florida, offers nature lovers a diverse and unique experience that stands in sharp contrast to Florida's southern Gulf Coast.
At least fifty-seven different ecosystem types occur in Northwest Florida, from flatwoods to the artificial reefs located here in the Gulf of Mexico. One doesn't need to venture far from the pristine white-sand beaches to encounter the truly wild. Brackish tidal marshes, extensive savannas, and crystal clear springs are all just minutes away and waiting for you to explore.
In addition to staples such as manatees, dolphins, and the American alligator, did you know that black bears also roam the forests near Florida's Gulf Coast? Find out what other amazing wildlife lives nearby when you visit Mexico Beach, a true adventurer's paradise! Your adventure begins when you book your stay at one of Mexico Beach's charming Beach Houses, Inns, Hotels, or RV Parks.
Bird-Watching
Mammals and sea creatures are aplenty in Mexico Beach, but this lovely town is truly one for the birds! Mexico Beach boasts among some of the best bird-watching sites in the world, including twenty-one points on the Great Florida Birding and Wildlife Trail located within an easy drive. St. Marks National Wildlife Refuge and St. Vincent National Wildlife Refuge are must-sees for any bird-watcher or wildlife lover. Visit Mexico Beach and surrounding areas for your chance to see up to 150 species of birds, and find them all listed in our Field Guide.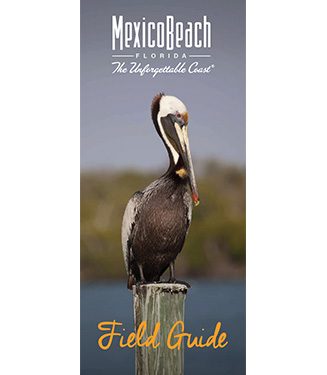 Enter Your E-Mail To Download Our FREE Mexico Beach Field Guide
and discover all the amazing species found in our local habitat, then plan your next beach vacation and see them all for yourself!