Restaurants
Mexico Beach offers a number of excellent restaurants where you are guaranteed to find delicious dishes and an abundance of fresh-caught seafood. You will also find several spots where you can enjoy refreshing cocktails, Gulf views, and live entertainment. With the combination of Florida flavor and Southern hospitality, every experience you have dining in Mexico Beach is unforgettable. You can dine at several locations including Killer Seafood (named one of the best seafood dives in America by Coastal Living), Toucan's of Mexico Beach, Mango Marley's, and many more! Whatever you're craving; whether it is seafood, burgers, waffles, or decadent desserts, we can ensure you will be satisfied with your dining experience here at Mexico Beach!
Local Seafood Markets
If you like to cook at home, you can visit our local fresh-caught seafood markets and bring something home to cook yourself! The Shell Shack, located in Mexico Beach, offers delicious and fresh seafood for great prices that you can find with the help of their experienced and caring staff. Here you will find a variety of seafood such as grouper, snapper, and other fish caught fresh from the Gulf, as well as other items like shrimp, oysters, and scallops.
Catch Your Own
If you like to fish, you came to the right place! Mexico Beach has several prime spots for fishing from the shore, the City Pier, or by boat. Here at Mexico Beach, you are likely to catch King mackerel, Spanish mackerel, Grouper, Red snapper, Black snapper, Mahi-mahi, Spiny lobster, Cobia, Pompano, Wahoo, Speckled trout, Redfish, and Bay scallops. With over 125 artificial reefs thanks to the Mexico Beach Artificial Reef Association, the Gulf of Mexico is the perfect place to go fishing and bring something home for dinner.
If you like to fish and cook, you could bring a taste of Mexico Beach home with you with these provided recipes from the MBARA Cookbook!
No matter what your preferences are, you can always find or make your own delicious meal here in Mexico Beach. We offer a number of delightful establishments where you will always be satisfied by the wonderful food they have to offer! If restaurants are not your scene, you can always find seafood at our local fresh fish markets or you can catch it yourself in the Gulf of Mexico! Either way, dining in Mexico Beach is the perfect way to make memories with your friends and family while enjoying a good meal and the beautiful scenery around you.
Recipes courtesy of MBARA Seafood Cookbook (www.mbara.org)
Pecan-crusted snapper
Ingredients:
4 snapper fillets
2 cups finely chopped pecans
1 cup Italian bread crumbs
2 eggs
¼ cup of Cajun seasoning
1 cup milk
½ cup of chopped parsley
Flour
Preparation:
Preheat oven to 450°. Mix bread crumbs with Cajun seasoning, pecans, and parsley in a bowl. Whisk eggs and milk together. Coat fish with flour, then dip in egg mixture and dredge in bread crumb mixture. Place on baking sheet and cook 15 minutes or until fish reaches an internal temperature of 145°. Serve with favorite side and enjoy!
Beer-battered fish tacos with Baja sauce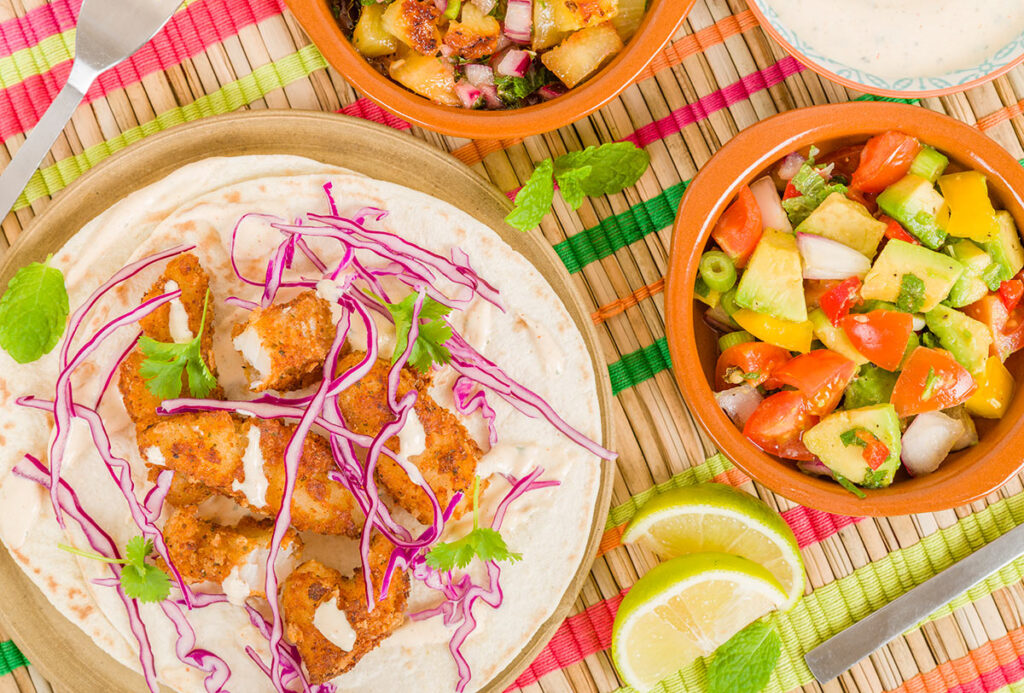 Ingredients:
1 pound firm whitefish fillets, cut into one-and-a-half-inch pieces
1 12-ounce bottle Mexican beer
1 tablespoon taco seasoning
Vegetable oil
1 cup all-purpose flour
1 teaspoon salt
1 teaspoon sugar
½ teaspoon baking powder
1 cup Mexican beer
½ teaspoon hot sauce
12 fresh corn tortillas, warmed
1 lime, cut into wedges
¾ cup shredded queso blanco or Monterey Jack cheese
3 cups shredded green cabbage
½ red onion, cut into strips (about ½ cup)
Baja sauce
Directions:
Place fish in a large heavy-duty zip-top plastic bag. Combine 12 ounces beer and Mexican seasoning in a bowl, stirring well. Pour beer mixture over fish; seal. Chill 2 to 3 hours. Pour oil to depth of 1 1/2 inches into a deep skillet or Dutch oven; heat to 360 degrees. Combine flour, salt, sugar, and baking powder in a medium bowl. Whisk in 1 cup beer and hot sauce. Drain fish, discarding marinade. Coat fish in batter. Cook fish in batches for about 4 minutes or until done. Drain on paper towel. Place 2 to 3 pieces of fish on each tortilla, squeeze lime wedges over fish, top with remaining ingredients, and serve. Enjoy! Yields 4–6 servings.
Scallops Vermouth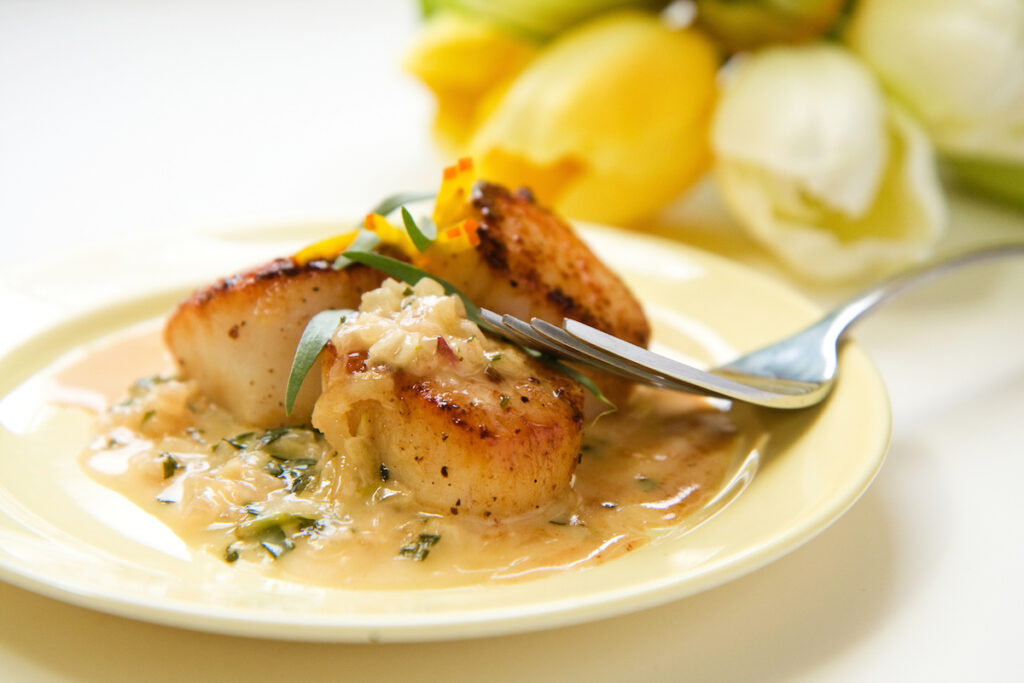 Ingredients:
¼ cup butter
2 tablespoons all-purpose flour
¼ cup dry vermouth
1/8 teaspoon pepper
1 bay leaf
½ cup light cream
1 tablespoon chopped fresh parsley
1 tablespoon minced onion
1 can (4 oz.) sliced mushrooms, drained
½ teaspoon of salt
1 pound bay scallops
2 teaspoons lemon juice
1 egg yolk
½ teaspoon hot pepper sauce (optional)
Directions:
Combine butter and onion in a 2-quart microwave-proof casserole dish. Cook in microwave, uncovered, on max power for 2 minutes. Stir in flour and blend well. Add mushrooms, wine, salt, pepper, scallops, bay leaf, and lemon juice. Stir carefully. Cook, covered, on max power for 6 minutes or until scallops are tender. Remove bay leaf. Beat cream with egg yolk. Add some of the hot liquid carefully to egg and blend well. Stir egg mixture carefully into hot casserole. Add pepper sauce and stir well. Cook, covered, at 60% power for 5 minutes, stirring once during cooking. Sprinkle with parsley and serve. Makes 4 servings.
---